What to expect from BlackBerry Developer Summit Europe 2017
Brexit means Brexit and BlackBerry means enterprise-level application of the secure communications and mobile productivity platform technologies now that the company's once oh-so-consumer level focus has shifted upwards.
Cracking London
CrackBerry BlackBerry software application development coder will this month descend upon London (March 24th 2017) for the BlackBerry Developer Summit Europe 2017, so what can we expect?
This is essentially one full day of programmer and systems architect level workshops focused on the practice of building enterprise applications at both beginner and advanced level.
Double the SDK pleasure
According to BlackBerry, these training sessions will go through a deep dive on the BlackBerry Dynamics SDK and also provide an exclusive first look at BlackBerry's upcoming release of BBM Enterprise SDK which the firm insists represents the next generation of secure communications in terms of Software Development Kit (SDK) power.
"This is going to be a superb event. It's a real opportunity for collaborate with our experts and discover how to integrate the BlackBerry application platform for faster app development using government-grade security and shared services frameworks right out-of-the-box," said Patrick Enright, director of global strategic partnerships at BlackBerry.
Embed it, baby
Enright says he is also enthused by the way this event will give coding professionals the chance to embed the BBM Enterprise SDK into their apps to provide secure, voice, video and messaging across all iOS and Android devices.
"It is an IP based system and actually pretty cool," noted Enright, in an interview this week with Computer Weekly. "Not only will our North American based technical team be able to help impart this knowledge to the European programmer community, we will also no doubt be able to sample some of the United Kingdom's much-famed fine cuisine and craft ales. I can't think of anything not to like about it," he added.
BlackBerry architects and engineers will provide guidance on using the BlackBerry Development Platform to code applications in development environments including: Android Studio, Xcode, Cordova and Xamarin.
Fancy a session?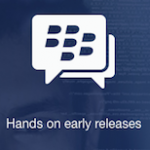 Expert lounge topics at the event itself include: BlackBerry Dynamics (BBD); application configuration; secure storage; enterprise server authentication; application policies; BlackBerry Workspaces; wearables; and so called AppKinetics for Inter-Application Communication.
On AppKinetics, BlackBerry says that developers can architect apps to securely exchange information within and between applications on a single device, without compromising security or employees' privacy and personal experience.
According to the firm, "This app-to-app inter-operability allows companies to create secure, end-to-end workflows so that they can leverage a broader ecosystem of protected, mobile applications to drive business processes, increase employee productivity and enhance collaboration."
The event will be staged at Kings Place, close to Kings Cross and St Pancras Stations.