What should a data evangelist's tattoo slogan say?
Big data on its own is just big data, but big data with analytics equals insight — and insight equals business value.
The industry is reverberating with this mantra and you can reasonably expect a few of the more committed data-centric evangelists to have the above slogan tattooed onto their forearms in the coming months and years.
Better still perhaps:
"Big data with real time analytics equals ACTIONABLE insight."
TIBCO Software (or as the purists among us know the firm: The Information Bus COmpany) is pushing for more recognition in this space through its partnership this month with Teradata — the TIBCO Spotfire event analytics is now supplied as a component of the Teradata Unified Data Architecture (UDA).
So what we have here is big data capture combined with real-time event processing and analytics.
This means:
• simultaneously analysing historical data (data at rest) …
• and real-time events (data in motion).
The Unified Data Architecture element here combines what is known as "closed-loop processing" of big data to collect and analyse real-time event streams.
The theory is that the insights extracted from the architecture enables business leaders to anticipate future events and take immediate automated action.
TIBCO's marketing glitterati like to call this the "two-second advantage" — and they even have an ® for that term.
The value of the Teradata UDA to customers is the ability to leverage the tight integration of Teradata data warehousing, Teradata Aster discovery platforms and Apache Hadoop.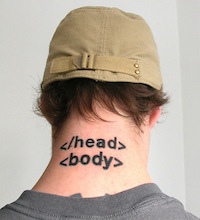 The two companies explain that this workload-specific architecture enables data centric developers to give business users a chance to gain competitive advantage through better insights from any data source.
Interestingly for developers here is intelligent filtering of "enormous streams" of event data before it is captured in Hadoop or other systems such as Teradata's own products.
So our real tattoo tagline here then is… "Big data with real time analytics equals ACTIONABLE insight for a two-second advantage."
Ouch! That's going to hurt going on.
"Teradata and TIBCO work with hundreds of the same customers, many of which have expressed the need for real-time stream processing within the Teradata UDA," said Peter Lee, senior vice president, TIBCO. "Our extended partnership with Teradata is fulfilling CIOs' long-time vision of a real-time analysis solution for big data. Not only can enterprises realise value with data discovery and analytics but now they are able to anticipate what will happen next and can act in real-time as new events stream in – truly delivering a two-second advantage."