Top predictions, about IT predictions, for 2013
'Tis the season to be jolly and spread good cheer throughout the land.
Plus of course… 'tis also the season to produce a "what to expect in 2013" press release.
As a collective group of individuals all hell bent on all looking for "the next big thing", it's no surprise to find that we use December to cast a little informed conjecture forward as we try and pinpoint trend(s) for the year(s) ahead.
But is any real insight uncovered?
Or is the whole process just a regurgitated process of corporate showboating?
Surely we can make an intelligent guess at most of the growing IT trends without companies trying to tell us what 2013 will bring us:
• Cloud
• Social enterprise
• Mobile
• 3-D Printing
• Big Data (and In-Memory Analytics)
• In-Memory Analytics
• BYOD and Mobile Device Management
• Gorgonzola
So for example…
"In 2013, we expect to see a growth in traffic for social media channels and Internet sales. Organisations will focus on how to monetise social media as a channel to market and hence drive revenue generation. Cloud as a commercial and technology delivery model is expected to flourish. In 2012, organisations explored packaged private cloud and custom packaged cloud for hardware, software and datacentres. Going forward, we expect businesses to demand more of managed service models from the cloud providers," said Ramyani Basu, senior manager, at global strategy consultancy, A.T. Kearney
Citrix meanwhile predicts that 2013 will see a need for IT departments to focus on governing apps and data, rather than the type of device.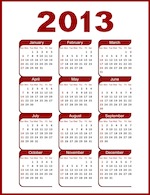 James Stevenson, area vice-president UK, Ireland and South Africa at Citrix is on the record saying, "2012 saw a rise in the number of business applications available on alternative platforms, with the large developer following of Android and iOS leading the charge. Consumers have become accustomed to downloading apps like Evernote and Skype – as well as tools for collaboration, social networking and storage – onto their smart phones and tablets with ease, and then using them at work. With this in mind, there will be growing pressure on the IT department to monitor the complexity of all these proprietary platforms to ensure the business still has some measure of control, or risk complexity, confusion and opening their network to the threat of malicious attack."
Felicity Wohltman, VP of solutions at Mindjet, a provider of social collaboration and work management solutions, also has commentary to add saying that the way we work is changing — and it's something CIO's and organisational heads are starting to address.
"Social enterprise collaboration has come a long way in the last 12 months, with many of the big names in IT, such as Microsoft and VMware, making moves into this space, proving it's on people's agendas. But more needs to be done. McKinsey's Social Economy report says that 80% of organisations using these technologies are still 'developing' the way they're used, with most tools not meeting expectations, or providing any real return on investment," said Wohltman.
"But with potential saving of $1.3 billion and a 20-25% increase in productivity, tools need to stop being an add-on and be part of the way people work together on an everyday basis. 2013 will be the year to hone these tools and make this happen," she added.
Interesting, but, still nothing Earth shatteringly new then… until wait, hang on.
Ian Kilpatrick, chairman of Wick Hill Group, gives his top IT trends for 2013 and says that wireless requirements have been significantly incrementing over the last year and this trend will continue in 2013.
"BYOD has changed both the data transfer and performance expectations of users. However, these expectations have not been met, with many networks still inadequate in their coverage and performance. The new 802.11ac standard, with 1 gigabit per second throughput rates, will be a key driver in organisations moving to high-density wireless in 2013. High density wireless will provide companies with high coverage and high performance, supporting business critical applications and delivering complete site coverage," he said.
Thanks Ian, you win the prize for "most interesting and original forward looking comment that did not blatantly mention cloud computing" for 2012
Oh and that last "Gorgonzola" bullet?
We just threw that in to see if you were still awake. Thanks to everyone who has read our blogs this year! Happy "holidays" as we now say ☺