The zeitgeist for the Internet of Things: 'thingalytics'
The Internet of Things, The Internet of Everything, The Internet of Connected & Embedded Things and The Internet of Data…
… take your pick, they all mean (mostly) the same thing.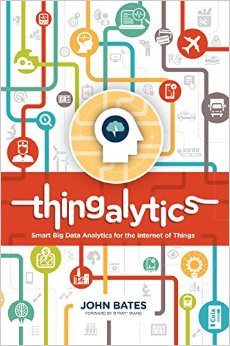 The notion of connected devices and the IoT is now becoming quite familiar to us and many users have started to adopt these technologies already.
In 2015 in the UK it is not uncommon to have British Gas Hive electronic heating controls, a home video monitoring system such as Piper or others and perhaps most obviously of all, a FitBit as a personal health tracker.
Time for thingalytics
The IT world is of course fond of a jazzy acronym or buzzword, so why not a buzzword title for a book about the Internet of Things?
Written by Software AG's Dr. John Bates, thingalytics is intended to show businesses how to take advantage of the fast big data that flows from the digital planet.
But how?
Thingalytics describes how to use real-time analytics and algorithms to seize the opportunities that flow from IoT while simultaneously minimising threats.
According to the book's promotional notes, "As each device from tractors to refrigerators to ships is digitized and connected to the Internet, it presents an opportunity for innovative businesses to learn from (and take advantage of) the digital data it creates."
IoT simples?
But it's not all going to be easy… the book warns us what happens when algorithms go wrong and cites a famous stock trading debacle thrown up by erroneous software code.
Bates also insists that this stuff is all new, "Because the volume and complexity of data have expanded exponentially in recent years, a thingalytics platform needs to be based upon completely new software architecture," he writes.
Digital Darwinism, digital disruption
"Digital Darwinism is unkind to those who wait," says R Ray Wang, who has written the forward to the book before listing a nicely complete description of what his firm Constellation Research does.
Using real stories from some of the most tech-savvy retailers, banks, transportation and soft drink providers, thingalytics delves into the world of analytics and algorithms to show the reader how to seize the opportunities buried within IoT.
Chapters include:
• It's all about me – the birth of personalised marketing
• Machines with feelings – smart industrialised and retail machines
• Home is where the smart is – yes, there is such a thing as a 'smart meal' – and yes, your TV might start only advertising to your exact demographic if you sign up within agreed privacy terms
• Take two smart pills and call me in the morning – your pancreas controls your endocrine system which acts as your body monitoring control, so why give it some help with an electronic monitoring sensor, in a pill
• Planes, trains and automobiles – yes, it's about those things
• The technology behind thingalytics – think big data, think streaming analytics, think cloud
CWDN opinion
Add thingalytics to your spellchecker now, this is the kind of phrase that sticks.
This book describes the zeitgeist of information technology today at the intersection of big data analytics and the change to a new information-empowered dynamism for consumers and businesses at all levels.
Dr. John writes with a cadence and spirit that reflects his real life persona; he is a techie original who just happens to hold a doctorate in software engineering and a C-level board position at Software AG.
This is an easy and enjoyable read and one that you can dip into randomly page by page if you don't want to start on page one.
About the author
Dr. John Bates is a forerunner in the fields of the Internet of Things and big data streaming analytics — he holds a custom-engineered napkin neck attachment device and a PhD from Cambridge University.