The 'dynamic' data centre is also the 'democratic' data centre
Application Delivery Networking company F5 Networks this week takes the wraps off of its BIG-IP version 11 software. This release is part of what F5 envisions as a dynamic data centre where services are provisioned on an application-by-application basis for better visibility and reporting of IT resource utilisation.
So what does that mean then?
A dynamic data centre has a "clear view" of users, applications and the network itself. This (in theory) enables IT departments to deploy application services on a per-application basis as rapidly as they can provision virtual machines to host the apps.
But what do they mean by "clear view"?
Being able to see users and apps on a clear path means that services such as user authentication, data protection, traffic management and application acceleration can be all be brought to bear. If you like, the dynamic data centre is also the democratic data centre where freedom of speech and individual freedom reign openly.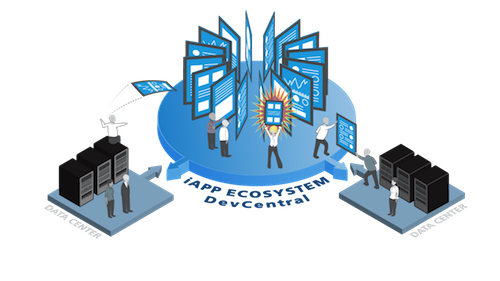 "As applications are virtualised and deployed in the cloud, the network becomes an integral part of the application delivery infrastructure and ultimately defines user productivity," said Karl Triebes, CTO and SVP of Product Development at F5.
"With the rise of virtualisation, an organisation can go from a bare metal server to a running application in just minutes. However, it might take days if not weeks to provision the underlying network and application delivery services to make that application production-ready and available to users.
"With BIG-IP v11, F5 changes the traditional network paradigm and makes it as simple to provision the Application Delivery Network as it is to create new virtual machines. BIG-IP v11's application control plane architecture aligns application control, visibility, and manageability and allows additional services to be added on demand as current conditions require," he added.
So now you've got the basics, what does this mean in practice?
F5 says that with BIG-IP v11, organisations can deploy applications up to 100x faster, enabling them to quickly react to changes in business needs.
100x faster, really?
That's what F5 says — but it's pretty arbitrary figure to be honest; probably plucked from the air given that spinning up a virtual cloud app can be done in less that a minute.
Regardless, the company further states that by managing application services as a whole rather than as individual devices and objects, IT teams can streamline operations and dramatically lower OpEx. BIG-IP v11 enables application-specific configurations to move with applications as new instances are created locally, virtually, or in the cloud. Additionally, F5® solutions now provide application-specific intelligence for a variety of popular applications from vendors such as Oracle, Microsoft, SAP, and others.
BIG-IP v11 gives organizations the power to configure, monitor, grow, and secure their business applications independently to gain greater efficiency, increase agility, and reduce CapEx and OpEx.
OpEx?
Operating Expenses silly, do try and keep up.
Finally (although this 500 word summary is only about a quarter of the company's 2000 word press release), BIG-IP v11's powerful new iApps (trademark deleted) technology is said to simplify deployment of application services with easy-to-use templates to associate specific sets of services with single, per-application policies that are portable — even as the application itself moves beyond the walls of the physical data centre.
Cheap sarcastic journalist quips aside, this is clearly a major release for F5 and the company has put considerable weight behind this news announcement. Interesting pickings for sure.