TIBCO puts more AI into Spotfire data discovery
TIBCO is in the middle of a raft of product updates and extensions.
The data integration firm's TIBCO Spotfire Data Catalog is describe as a data connectivity and data management product with a 'composite join capability' that automatically finds and relates structured and unstructured data.

Download this free guide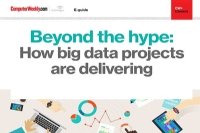 To infinity and beyond: Big data delivering beyond the hype
Despite Gartner placing it in its famous "plateau of productivity", big data has and still is, delivering beyond the hype. We look at a few high-profile examples of how organisations are reaping the benefits of their big data projects.
Smart data unification
This is, if you will, something that we could call 'smart data unification'.
The Spotfire Data Catalog aims to connect multiple relational and big data sources.
"Spotfire Data Catalog makes navigating your corporate data as easy as searching the web for content," said Brad Hopper, vice president, product strategy, TIBCO. "With machine learning under the hood and the ability to drag-and-drop your way to a custom Spotfire data mart, our data catalog product helps customers break down data silos and increase the value of their data assets."
NOTE: A data mart is a repository of data that is designed to serve a particular community of knowledge workers.
How does it work?
Spotfire Data Catalog continuously indexes databases and data lakes, applying text-mining algorithms to discover relationships among tables and documents, as well as concepts and sentiment.
These elements can be discovered in business user searches, or may be presented as recommendations. The user can then pick and choose what to add to what becomes a virtual data mart and then share a connection to this virtual data mart for analysis with Spotfire.