TIBCO coalesces big data streams with analytics
Why would a company put out one of its major news announcements the week before its annual user, customer and developer conference?
Reason #1 – it has more up its sleeve for next week.
Reason #2 – it is confident enough to swagger at its annual symposium with fewer press releases.
Reason #3 – it got the date wrong and this is all a mistake.
Nope, the date is correct and TIBCO has this week announced the latest version of its Spotfire data discovery and visualisation platform. Version 6.0 of Spotfire includes enhancements for developers and contextual automated location-aware data analytics, so what's not to like?
The firm's VP of product Lars Bauerle insists that his team has "invested significantly in the technical core" and that this tool helps extend the use of impact analytics to all corners of a business.
So what does that mean?
What does impact analytics do?
Bauerle explains that it can help structure personal KPIs (key performance indicators) on any mobile device to every employee.
… and this, enables customers to transform and achieve a sustainable competitive advantage … as they say in PR land.
KPIs in the "last mile" of the enterprise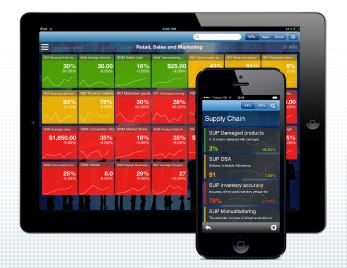 "With the consumerisation of IT and increasingly mobile workforces, employees expect immediate access to accurate and relevant operational information wherever they are. That means the right information must be available at the right time, on the right device — and personalised to the individual. Spotfire 6.0 delivers through an updated web client now called TIBCO Spotfire Consumer, which presents up-to-date key performance indicators on a range of mobile devices supporting capabilities such as offline KPI monitoring, contextual drill down and social collaboration. Support is provided for mobile phones, tablets, and laptops for iOS, Android, and Windows 8 operating systems," said the company, in press statement.
What's not to like indeed – unless perhaps you are a disgruntled employee who is not very keen on being slapped with KPI targets which are being monitored via your mobile device.
Spotfire 6.0 also allows for visualising, exploring and analysing data in the context of geographic information and maps.
This is mobile KPIs that know where you are, there is no escape.
NOTE: Users are able to expand situational understanding through the use of multi-layered maps, automatic geo-coding, and data overlay – this promotes so called "self-service discovery and visibility" into the unknown.
Also included in this news batch is TIBCO Spotfire Event Analytics, a new product that allows enterprises to automate the tracking and identification of new trends or outliers in business data, as they are generated.
According to TIBCO, "This real-time monitoring, powered by TIBCO's event-processing technologies, triggers the automatic creation of analytic applications to enable management by exception, providing data analysts and decision-makers with the insight they need, as it develops, to further monitor important processes, such as quality control, customer churn, and productivity."
So for companies, this is an important "coalescence of big data streams with analytics" to help promote continuous improvement for the business and saves considerable time for the analyst to deliver value to the business.
NB: the working title for this piece was "Contextual automated location-aware data analytics, KPI dream or Orwellian user nightmare?", but as that was a teeny bit barbed, we opted to play softball.