Sybase & the Obama-factor: mobile enterprise apps cleared for take off
There's an old saying in publicity and marketing: when you've got no news to talk about, why not launch a survey? So if Sybase starts talking about a enterprise mobility survey I would normally just turn off.
Well, I would if it weren't for the fact that Sybase 365 runs so much of the US SMS mobile messaging services network that the company was able to report a spike in November 2008 for a good reason.
Sybase 365 reported an unprecedented surge in SMS traffic during the 10 minutes immediately following the official announcement that Barack Obama was elected the 44th president of the United States of America.
"Last night, between 8.00pm and 8.10pm PST, the volume of messages surged over 3 times the 'normal' volume for that time of day. The hour between 8.00pm and 9.00pm PST was 9% greater than the same hour on the previous day," the company reported at the time.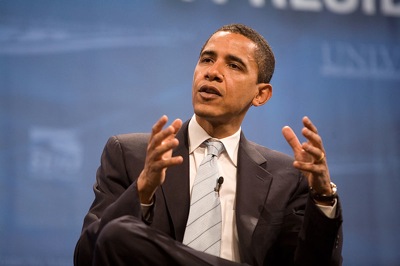 "Hmm McDonalds — OK, over three billion served, you got me, I'll try one," as Jerry Seinfeld would say. Let's have a look at your survey then.
Sybase says that new survey (by Kelton Research) highlights that this year 90 percent of IT managers surveyed are planning to implement new mobile applications and nearly one in two believe that successfully managing mobile applications will top their priority list.
As a result both hosted and on-premise mobility solutions powered by a strong mobile enterprise application platform are valuable options for businesses to seriously consider in 2011.
Other findings include:

• A majority (82 percent) of IT managers share the belief that it would be beneficial – not detrimental – to host more of their mobile applications in the cloud.
• Nine in ten (90 percent) IT managers reported they will implement new mobile applications this year, with almost a quarter (21 percent) looking to introduce 20 or more applications into their organisation.
• In addition, they anticipate supporting about eight different mobile platforms or operating systems by the end of 2011.
• Despite the enthusiasm and flexibility shared by IT departments, many are currently not being strategic about mobility. Almost half of respondents (46 percent) who do not have a mobile strategy in place did not expect to hire staff to specifically deal with their enterprise mobility strategy while nearly the same number of respondents (45 percent) admitted they did not have a plan or timeline in place.
"The proliferation of new devices, coupled with the vast expansion of mobile applications used by consumers has paved the road for mobility solutions to enter the enterprise at the worker, workgroup, and workflow levels. Given all this, we expect 2011 to be the year of the transformation of the enterprise," said Dan Ortega, senior director product marketing, Sybase.