Software AG's cloud migration double-play: migration cloud-to-ground & cloud-to-cloud
When is the best time to break news at CeBit in Hannover, Germany?
Answer: late on the Friday afternoon before the show even starts, natürlich!
Software AG today explains that it is launching a "Transformation to the Cloud" initiative.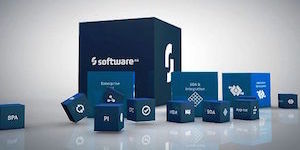 Ed — it's about cloud migration then, obviously?
A more colourful way of putting that would be to say that it centres around an objective to help enterprises to identify and implement their optimal cloud adoption strategies.
To support and validate the initiative, Software AG has made the decision to deploy its entire cloud portfolio on the AWS cloud over the course of 2015.
Already running on AWS are Software AG's Alfabet Cloud and ARIS Cloud product suites for IT planning and portfolio management as well as business process analysis.
These services are supposed to allow enterprises to identify those IT assets that can make optimal use of the cloud from ease of access, cost, regulatory and security perspectives and how to transform business processes to the cloud.
Natural 'cloud citizens'
Yes of course some of those assets will be natural (or even obvious) so-called 'cloud citizens' such as those apps with a high degree of cyclicality and those that scale well in vertical terms…
… but if cloud migration was that clear cut then we wouldn't spend so much time discussing it and firms wouldn't launch initiatives like this one.
Cloud-to-Cloud and Cloud-to-Ground
Software AG will also deploy webMethods Integration Cloud on Amazon Web Services this year — this system offers application integration capabilities for Cloud-to-Cloud and Cloud-to-Ground use cases as a public cloud service.
Software AG CTO Wolfram Jost insists that Software AG can offer a portfolio of cloud services to help design an optimal hybrid IT architecture and deploy suitable processes, domains, systems and applications on the AWS cloud.
"Using Software AG's Alfabet Cloud and ARIS Cloud on AWS will enable customers to gain the maximum value from the cloud through a managed business and IT transformation to a customer centric digital business," said the company, in a press statement.
Software AG will also deploy webMethods Integration Cloud, an integration Platform-as-a-Service (iPaaS) for cloud-to-cloud integration and seamless connections with private cloud or on-premise enterprise service bus installations on AWS.
webMethods AgileApps Cloud
Finally, webMethods AgileApps Cloud, a PaaS and on-premises solution for creating situational and case management apps will also be run on AWS. Designed for easy visual customisation, webMethods AgileApps Cloud enables subject matter experts to change processes, business rules, e-forms, reports, dashboards, connect with Facebook or Twitter, collaborate with team members and access information from any mobile device.
"Today, more than ever before, leading ISVs are looking for IT solutions that allow them to move quickly, reduce costs, and better serve their customers," said Terry Wise, Vice President, AWS. "Software AG is a leading example of an innovative software vendor going all in on AWS to leverage our secure, robust infrastructure platform, and expanding global footprint to build highly differentiated, value-added solutions for their customers."
Software AG says it will now expand the portfolio of cloud transformation services and solutions through its partner program in 2015.
The focus will be on delivering strategic cloud adoption consulting services.