Software AG: Vorsprung durch cloud-Technik
As already reported on the Computer Weekly Developer Network, the team at Software AG is using this year's CeBit 2015 exhibition and conference in Hannover Germany to talk cloud.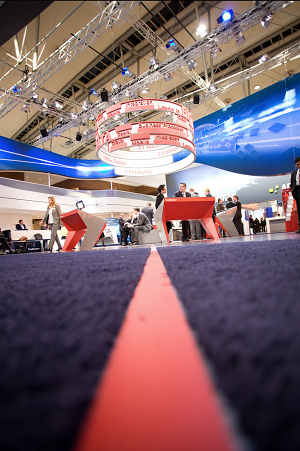 Specifically, the firm has launched a "Transformation to the Cloud" initiative.
Software AG has made the decision to deploy its entire cloud portfolio on the AWS cloud over the course of 2015.
Already running on Amazon Web Services (AWS) are the company's Alfabet Cloud and ARIS Cloud.
Alfabet is for IT planning and portfolio management as well as business process analysis.
Cloud-by-cloud breakdown
The Alfabet Cloud
Alfabet Cloud combines portfolio management with cloud technology to put IT portfolio management expertise in two editions i.e. it lets teams decide which option best fits their needs based on budget, portfolio management maturity, program goals and stakeholders.
The ARIS Cloud
This technology exists to design, analyse, share and collaboratively improve processes in the cloud with integrated social collaboration. The firm insists that it comes in three editions — basic, advanced and enterprise — to support the widest implementation of BPA projects…
… it's BPA cloud (Business Process Analytics)-as-a-Service, if you like.
So to this year's main event and the firm's international main press conference held on a Sunday afternoon.
At a gathering entitled Stand out in the Digital World – with the first Digital
Business Platform, chief technology officer Dr. Wolfram Jost chaired the proceedings together with CEO Karl-Heinz Streibich and Eric Duffaut, who is Software AG's chief customer officer — the assembled collective wanted to show how their technology platform enables organisations to master digitisation.
Software AG now positively names and brands its latest offering as The Digital Business Platform – bus is this just a brand name for some cloud application services, or is Software AG doing anything tangibly different?
NOTE: The European Commission estimates that the digital economy will reach €3.2 trillion (in the G20 countries alone) by 2016 and already accounts for 8 percent of GDP.
Why old software is "broken"…?
The suggestion here is that old software doesn't work – it is:
• standard,
• conventional,
• packaged
• based upon old business logic
… and, very crucially, it is designed for relatively stable and predictable business situations.
This is the old world of software and it can not provide the flexibility needed for today's world of real-time business and rapidly changing market requirements.
NOTE: By way of clarification, Software AG is NOT contending that all old software should be "ripped and replaced" — we know very well that a lot of legacy software exists because it is software that STILL WORKS. So rather then, the firm is talking about new digitisation programmes and new software developments for the most part.
"Today's enterprises must become digital to have maximum visibility into changing market behaviour, individual customer requirements, its own business operations across the entire supply chain as well as changing external parameters such as new government regulations or even weather conditions", said Software AG CTO, Wolfram Jost.
"The Digital Business Platform provides the foundation necessary to develop and deploy differentiating business applications, developed together with the business departments, in short and easily foreseeable release cycles," added Jostr.
He underlines that traditional packaged applications are not designed for this type of development approach.
"The benefits of analysing data from the Internet of Things, from the social end of the spectrum to machine to machine communication (M2M), making in-depth business decisions based on the information provided and dynamically adapting business processes and models to react to 'live' events are enormous", continued Jost.
"Providing a holistic approach that can manage and govern IT assets and automated business processes, on-premise and cloud integration and advanced
analytics, based on an in-memory and event driven architecture, is the only way that enterprises can fully utilize digitization. This is our philosophy behind the Digital Business Platform".
It's a question of PRODUCTS vs PLATFORMS … with products, you have a piece of software and it will go out of date… but is you run a platform, you have the option to pull things in and out.
If we ask whether Software AG doing anything tangibly different – and the answer is yes, but it's a subtle yes.
The company has brought together its own recipe for combined IT in its own special way, this is the difference.
• It has core cloud functions such as Alfabet and ARIS.
• It has systems integration technology from its WebMethods products.
• It also draws upon WebMethods for its Agile software application development and process intelligence.
• It has capabilities to manage big data in-memory with its Terracotta line.
• It has real-time insight technology with Apama.
Now Software AG would tell us that this ingredient list makes the firm "unique", but we all know that only snowflakes and John Lennon are unique.
The company has also said that with this week's news it has launched the first ever digital business platform, but headlines like that on press releases don't help much to be honest, it's just PR showboating isn't it?
What we need to ask is whether there is real substance here behind the use of the term PLATFORM.
Jost further states that a "platform beats a product every time" – and what Jost means by this is firms should approach software applications that they may only end up using for say a couple of years in their initial form.
Software application development must move to reach a new level of ADAPTIVE APPLICATIONS that can be changed and tuned (often rapidly) says the firm.
This is because no software vendor can foresee the business logic of a company for more than a couple of years — this is a good point.
So what we have here is a focused set of tools and technologies delivered in an efficient and logically packaged package.
Software AG has thought about how it has put these component ingredients together… it's a layer of advancement through intelligent cloud design.
Or perhaps Vorsprung durch cloud-Technik, yah?
Editorial disclosure: Software AG paid for most of Adrian Bridgwater's travel expenses to attend CeBit 2015.