Sinclair ZX Spectrum, 'recreated' for iPad & maybe a new generation of BASIC developers?
Emulators and clones have come and gone over the years, but those of us who grew up with the real thing have long bemoaned the disappearance of the Sinclair ZX Spectrum and its 'rubberised' keyboard.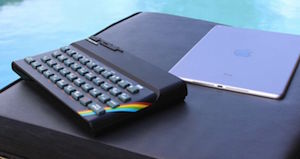 'The recreated Sinclair ZX Spectrum' (note use of official name) is a full-size recreation of the 1980s personal computer.
The machine will be available in the UK and elsewhere this Spring 2015 at less than £100.
The new (sorry, recreated) ZX Spectrum ships with
1) 'Recreated Sinclair ZX Spectrum' iOS / Android apps which include the
classic Sinclair ZX Spectrum game 'Chuckie Egg'.
2) 'Sinclair BASIC'
3) A large game bundle
'Sinclair ZX Spectrum' games will also be available ONLINE, via 'The recreated Sinclair ZX Spectrum Online' web app website.
The recreated device uses are not limited to Sinclair ZX Spectrum applications as its Bluetooth keyboard it can be used with other devices.
'The recreated Sinclair ZX Spectrum' has been redesigned in the UK for Elite Systems Ltd, one of the UK's oldest developers and publishers of computer and video games.
Sinclair for developers
Co-founder of Elite Systems Steve Wilcox told the Computer Weekly Developer Network blog that, "Sinclair / Spectrum BASIC is credited by some as inspiring a generation of world-class developers in the 1980s."
"[Today then] 'the recreated Sinclair ZX Spectrum' ships with the same BASIC programming language and coupled with the wealth of resources now available on the web will, we hope, inspire a new generation to enjoy the benefits of becoming a developer," added Wilcox.
It supports 'Apple AirPlay' and 'Google Chromecast'; enabling wireless streaming of what's on the screen of a phone, tablet, Mac or PC to an HDTV.
The recreated device's 'GAME' layer has been perfected for iOS / Android apps and for games in general … its 'QWERTY' layer has been honed for applications requiring access
to all the functionality of a full-size keyboard.