Sexy cloud apps? Mendix makes aPaaS at it
Mendix has updated its application Platform-as-a-Service (aPaaS) software to make it, well, sexier.
Sexier how?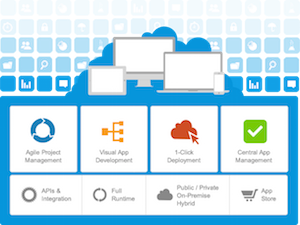 The immodestly named Mendix Digital Experience (DX) release includes extensive pre-crafted UI templates for creating cloud applications faster, which is a good looking feature.
There's also OData support — meaning 'open data'.
OData defines an abstract data model and a protocol that let any client access information exposed by any data source, so that's definitely attractive
There are also enhancements to the firm's online developer community; and an expanded Free Edition with full production capability.
New UI, what's inside?
The new UI Framework delivers a comprehensive set of UI patterns, themes, navigation layouts, and page templates. Using this framework, developers can create "pixel-perfect" fully responsive applications out of the box… says the firm.
According to a press statement, "Mendix now supports OData, an open protocol that enables simple creation and consumption of query-able and interoperable RESTful APIs for data. One click turns data into information by pulling live data from Mendix applications into BI and analytics tools, such as Tableau, SAS, R and Excel. A new streaming query mechanism features high performance and low memory usage."
The release offers an improved developer experience through upgraded sign-up flows, project wizards, instructional videos, how-to guides and an enhanced developer website.
These resources, collected in the new "Mendix Cookbook," help remove complexity, speed ramp-up time, and enable developers to focus on building applications that make a difference.