Salesforce.com partner FirstRain gets personal with analytics
Silicon Valley data specialist FirstRain is at Dreamforce 2014 to put what it calls personal business analytics power into the new predictive data offerings from Salesforce.com.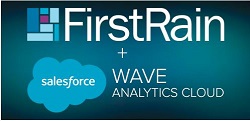 Joining the Salesforce Analytics Cloud ecosystem now, FirstRain brings its branded to the central Salesforce Analytics Cloud to produce a tool that explores structured data that has been enriched with personalised company-specific analytics drawn from the unstructured web and social media.
Users direct this software to find and highlight hard-to-find changes in their business performance and determine what action to take.
"We're excited to see the productivity gains the combination of Salesforce Analytics Cloud with FirstRain's personal business analytics will give our mutual customers," said Penny Herscher, FirstRain president and CEO.
Salesforce hopes its customers will use the firm's new Wave self-service analytics technology on structured customer and market data. Then, from that point, combine it with FirstRain analytics from the wider world of unstructured data.
This will allow users to explore risks and opportunities says the firm. For example, sales management can explore which deals are being delayed in a current quarter, use FirstRain to show the reasons why and then predict which future deals are being impacted by the same risks.
"FirstRain uses deep data science, unstructured text analytics on the web and social media with sophisticated personalisation to create the deep personal understanding of the customer's business that is critical to every business professional today," said Herscher.
FirstRain says it is broadly used by externally-facing teams i) to provide sales units with customer understanding for enterprise sales methodologies ii) to equip global executive teams with real-time analysis of their top customers or iii) to help strategic marketing teams analyse the dynamics of vertical markets and competitors.
FirstRain works across manufacturing, telecommunications, healthcare and financial services to combine structured and unstructured analytics into insights to drive fact-based decisions.