SAP hires autistic software testers and programmers
SAP is working with software testers and programmers who sit on the autistic spectrum.
Known for their often heightened sense of analytical awareness and perception, people classified with an element of autistic behaviour could have untapped potential in software application development and testing.
SAP is working alongside Specialisterne to potentially hire hundreds of autistic staff around its global office locations.
Specialisterne describes itself as a foundation that works to enable one million jobs for people with autism and similar challenges through social entrepreneurship, corporate sector engagement and a global change in mind-set. SPF works with stakeholders around the world to bring about a vision of a world where people are given equal opportunities in the labour market.
"We are very excited by this opportunity to enable SAP global access to a huge pool of untapped talent and therefore help strengthen SAP's position as a global leader in innovation. The partnership will position SAP as a thought-leader and motivate the ecosystem to follow its example," says Thorkil Sonne, founder of Specialisterne and chairman of the SPF Board.
Based on a successful pilot project in India where (again working with Specialisterne) SAP Labs hired six people with autism, SAP now plans to take the collaboration to a global level.
Pilots in North America, including Montreal and Vancouver in Canada, Palo Alto in California and at its worldwide HQ in Waldorf, Germany are planned for 2013. Current running pilots are in SAP Ireland and India.
"By concentrating on the abilities that every talent brings to the table we can redefine the way we manage diverse talents," said Luisa Delgado, Member of the Executive Board of SAP AG, Human Resources. "With Specialisterne we have truly had a meeting of the minds with our common belief that innovation comes from the 'edges'. Only by employing people who think differently and spark innovation will SAP be prepared to handle the challenges of the 21st century. "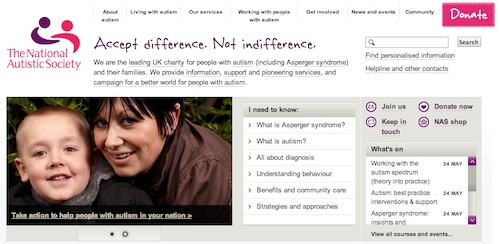 You can visit the National Autistic Society here for more information.