SAP & Sybase keep it real over real-time apps
Data-centric newlyweds SAP and Sybase have announced a series of new device agnostic mobile apps built on the Sybase Unwired Platform aimed at mobilising business processes and business information.
Quoting last years stats for some reason, Sybase points to a survey by Forrester Research which has suggested that in 2010 over 60 percent of companies will make mobile applications a priority over the next 12 months.
Forrester says that around 75 percent of organisations deploy mobile applications to increase worker productivity — and, overall, "improved customer satisfaction" is an important driver of mobilising applications for 42 percent of firms.
"Over the past 18 months, SAP has been releasing technologies enabling the rapid creation and deployment of mobile apps through our platform and development tools," said Dr. Raj Nathan, executive vice president and chief marketing officer, Sybase.
Among a newly strengthened corporate stronghold of spokespersons all dutifully playing to the SAP song sheet, Nathan is known for his vibrancy and creativity. As such, his comments are (arguably) among the more worthy of those emanating from Sybase if we are to trust in his PR department's ability to show him where he is quoted.
"We are announcing several packaged mobile apps that will drastically reduce the costs and time needed for organisations to implement a mobility strategy. Enterprise mobility is a phenomenon that transcends all borders in the workplace and SAP is out in front of this trend as it revolutionises the mobile space by making mobile the new desktop," added Nathan.
The SAP revolution — are you sure you wrote that yourself Dr Raj? We're just kidding with you, it's a worthy citation sir.
The new mobile apps are designed to drive short-term, bottom-line results for businesses and employees across key industries.
As field service engineers are required to make more informed, timely decisions, the new SAP Field Service mobile app is designed to enhance customer satisfaction by bringing the right data resources, knowledge and information to the point of issue resolution. Built on Sybase Unwired Platform, the field service app will (says Sybase) provide full online and offline access to assignments, service orders and service confirmation.
There is also a new SAP Retail Execution mobile app, as well as a new offering for field technicians in the form of the SAP EAM Work Order mobile app.
Sybase has also suggest that new employee productivity mobile apps are in development with the goal to enable employees to remain productive through one-click access to key capabilities for completing routine activities, such as travel and expense capture, approving HR-based requests, entering sales orders and approving or rejecting purchase orders.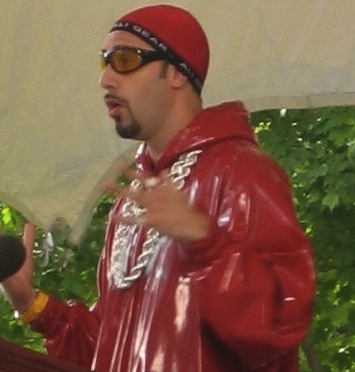 Ali G: keeps it real — Sybase & SAP: keeps it real time
Although journalists were politely not invited to attend last year's Sybase TechWave developer conference and industry exhibition/symposium – an understandable situation given the state of flux at the time – this year it appears to be an all singing all dancing affair. So I hope to report on the new Sybase and see if it is still the company it once was — and more besides, perhaps?