Optoma: a dongle is for life, not just for business
Let's get one thing straight, the CWDN blog sees a lot of gadgets fly past — from crowdfunding toilet cleaning wonders to plain old smartphones, the innovation stream doesn't stop.
Software in hardware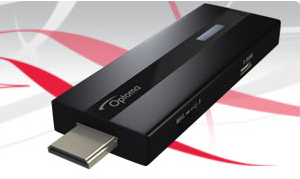 So then, although this column will always predominantly focus on software… when it comes to gadgets and new devices, we must of course turn to hardware.
By way of some justification, we will focus on new products that any self-respecting software application developer would be very pleased to receive now that the holiday's are almost upon us.
Optoma has just launched a new 1080p multimedia streaming dongle, the HDCast Pro.
This device plugs into a projector or a TV's HDMI port to enable wireless streaming of movies, videos, photos, music, documents or websites straight from a smartphone, tablet or laptop.
It will also stream digital content stored on a home network.
A dongle is for life, not just for business
But it is not just for home — the dongle is ideal for businesses say its makers.
NOTE: Well… that above cross-head should read a dongle is for business, not just for (home consumer) life, but it's Christmas so go with it okay?
It can be used in business projectors for laptop free presentations, to browse the internet or mirror the screen of a laptop or mobile device and can even turn the mobile into a document camera/visualiser.
The HDCast Pro app can be downloaded for free from the Optoma website or the Apple app store. Once downloaded, any smart device can be used to control what's on the big screen – including zoom, play, pause, rewind and volume. The app also enables users to draw and annotate files on the big screen image from a mobile device.
Optoma's head of product marketing, Justin Halls has said the HDCast Pro is primed for instant plug and play viewing, which means set-up couldn't be simpler as no cables are required to connect a source to the projector or TV.
"It's a great way to enjoy super-size images that previously could only be viewed on the tiny screen of a mobile device," he added.

CWDN opinion
Out of the box, this is a relatively straightforward piece of technology to install — although Windows, Mac, Android and Apple iOS are all supported, really… it has to be said, the experience from mobile to large screen television is the best — but that's justifiable as this is where the device itself is picthed.
Getting the device hooked up for mirroring via Apple AirPlay on iPad works well… and of course the benefit here is that literally anything you are watching on any 'TV app' on your iPad you can wirelessly broadcast to your TV screen.
It's worth remembering that you also need to plug the mini USB cable in to power the dongle unless the display device has MHL.
NOTE: Mobile High-Definition Link (MHL) is an industry standard for a mobile audio/video interface that allows consumers to connect mobile phones, tablets, and other portable consumer electronics devices to high-definition televisions and audio receivers.
Where this device arguably comes into its own is when you're on the move staying in a hotel… even more so if you are abroad and there is a lack of programming in a language that you understand. In this instance, the ability to stream from laptop or tablet straight to the television (assuming an HDMI connection is fairly standard now) is a real joy.
Oh… and Angry Birds works too (as do all apps), so who wouldn't want to try that on a 50 inch plasma?