NetSuite to developers: first... there was ERP, then came 'customized' ERP
Apologies for the Z, but this is Silicon Valley and customisation becomes customization for the duration of this electronic missive.
NetSuite holds its annual SuiteWorld user, customer, partner, developer, practitioner (Ed – we get it, everyone is invited right?) conference and exhibition this week in San Jose.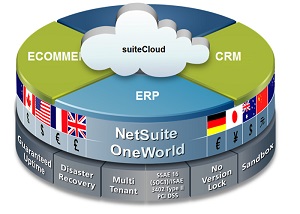 The firm will no doubt present with its usual swagger and bravado taking potshots at its competition during the SuiteWorld keynotes.
NOTE: Is it a good idea to knock the competition? If we take a lesson from HP's refusal to do so in the past then perhaps NetSuite is playing the game correctly?
After the handshakes…
So what will NetSuite actually say to the practitioner/users who will implement ERP systems today?
The firm's message is to programmers centres around the proposition that developers can create customized vertical and industry-specific applications tailored to individual use cases.
The SuiteCloud Developer Network (SDN) is meant to represent a platform for on-demand business management software.
Platform solidity?
Everything is a so-called platform though isn't it?
The firm's developer portal details what appears to be a tangible enough set of cloud development tools, applications and infrastructure.
More specifically, SuiteCloud comprises a multi-tenant cloud platform with an Integrated Development Environment (IDE) and APIs to build applications on the platform.
We mean it, from the heart
Senior VP of business development Guido Haarmans insists that developers are "at the heart of" the SuiteWorld 2015 conference.
Starting with the event's own Hackathon 4Good, coders will have a chance to create solutions for two charities he explains.
"From there, we go into keynotes revealing our new functionality as well as workshops, product demonstrations, case studies and live lab sessions. These are supported by personal meetings with NetSuite product managers and SuiteGurus to discuss the NetSuite needs of individual customers. Developers working at both partners and customers are integral to the continued growth and evolution of NetSuite," said Haarmans.
"Whatever route NetSuite developers take around SuiteWorld's two hundred plus breakout sessions, it will be an opportunity to hear about and influence where we head next on our mission to transform business management software. I'd recommend all developers stop by the SUITEdemogrounds where we'll be sharing designs for future products and functionality and we are eager awaiting user and developer feedback."
CWDN opinion: Developer ERP may not quite be its own acronym just yet (DERP), but it should be and it should surely be down to a company like NetSuite to champion this.
Editorial disclosure: Adrian Bridgwater has worked on blog materials for NetSuite's own blog portal, he does not endorse NetSuite products and is not an employee of the company.