NetSuite goes omni-lingual on omni-channel ecommerce
The challenges of designing software that supports international business are many, manifold, multiplex and… crucially, multilingual.
NetSuite is aiming to facilitate 'multilingual' multi-channel ecommerce with a new version of its One World business management suite.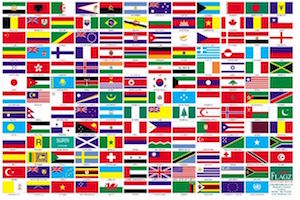 The software aims to power to "any" business model in a world where any means B2B, B2C and B2Anything.
The new version of One World supports tax reporting in 100 countries.
There is configurable tax compliance, support for 20 languages and 190 currencies and multi-subsidiary management.
The firm says that this software has capabilities for global businesses which have enabled NetSuite customers to transact in more than 200 countries and dependent territories around the world.
"Businesses seeking to enter new markets, manage mergers, acquisitions and divestitures and fast-growing companies looking to expand globally often find themselves held back by software systems siloed by department, geography or legal entity structures," said the company, in a press statement.
This software is intended to bridge the gap between traditional ERP and external tax engines — as such, it provides access to the key data required to satisfy those tax authorities that are increasingly adopting standards-based eGovernment and audit methodologies.
According to a news report, "NetSuite OneWorld's global tax is a key capability for supporting omni-channel, omni-country business operations, taking into account where businesses are shipping from and where they are shipping to in order to calculate the correct tax for the correct jurisdiction for a given transaction."
Clearly there is a challenge here when we look at the complexity faced by developers when assembling data for international ecommerce apps — and understanding of regulations, integration to national tax systems APIs, understanding local accounting conventions etc.
Okay so omni-lingual is not really a term as such, but it kinds of works in this context.
Editorial disclosure: Adrian Bridgwater has worked on NetSuite blogs at its annual SuiteWorld conference and exhibition.