Mobile World Congress 2011 - first impressions
I have just arrived in the maelstrom of communications that is Mobile World Congress 2011 in Barcelona. This will not be a technical blog – those details will come tomorrow and for the next 72 hours or so. These are my first impressions…
This event is big. The stands are big and the industry is big. The press room is heaving with perhaps two or three hundred journalists – some of them sat on the floor trying to get some work done, some of them sharing desk space crammed in like sardines. There is no air conditioning and the only beverage on offer is warm water.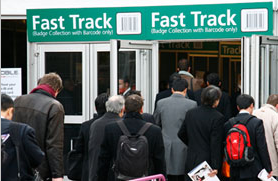 The main hall looks impressive with double-level stands and show girls festooned in their usual eye candy garb. The entry security was just a shade off being frisked for class A drugs (not that I would know), so the organisers are clearly aware of the need to keep us safe.
The event is of course "international", but the Brits for some reason feel they need to brand all their stands as "The UK Zone" with little Union Jacks and equally diminutive put-me-up stands.
I'll be meeting with Vodafone, Sybase 365, Adobe, Microsoft and Qt among others – I'll also be aiming to get some word on the street comment from users if possible.
OK so soothing foot spray at the ready, laptop and camera fully charged – we're off.