Microsoft and the continuously delivered multi-platform interoperability dream
Tel Aviv is famed for, as we know, its vibrant software application development community.
Truth be told, some of the most vibrant web-focused start-ups on site at the recent Le Web conference in Paris last December we from the Holy Land.
It's incredible, apparently
In this vein we hear news this week of the immodestly named IncrediBuild, a provider of continuous delivery acceleration technology and its new version 6.0 release which fully supports Microsoft Visual Studio 2015 Preview.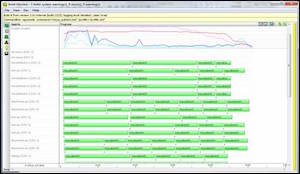 Microsoft Visual Studio 2015 is distinguished by its support for cross-platform mobile development, web and cloud development — and its IDE productivity enhancements.
IncrediBuild CEO Eyal Maor assertively claims that this release is "only a taste" of what is planned in 2015 to accelerate multi- and cross-platform development.
"With the combination of IncrediBuild and Visual Studio 2015, continuous interoperability is possible across multiplatform development for Windows desktops and Windows and Android tablets and mobile devices," said Maor.
Incredible or insipid?
Microsoft's Tom Lindeman went on the record with an arguably somewhat flavourless statement paying lip service to "tremendous developer pressures" — and to remind us that there IncrediBuild's technology "further enhances" (he claimed) the cross-platform offerings built into Visual Studio.
Where this gets interesting is that the latest version of IncrediBuild adds support for shared projects, allowing developers to build applications for Windows and Windows Phone simultaneously, sharing code, user controls, styles, strings, and other assets between the two projects in Visual Studio. Supporting cross-platform development.
Parallel pleasures
IncrediBuild allows builds to execute in parallel over an entire network.
It makes Android compilations faster by offering parallel compilation at the project level.
So for example, a standard build takes more than 3 minutes on an 8-core machine with 100 two-second Android compilation tasks. With IncrediBuild, the same task takes 12 seconds.
Also here, IncrediBuild offers additional productivity features such as build visualization, easy error detections, the ability to inspect build output per project, build management and replays.