Microsoft, Intel, Adobe & others join for developer relations conference
Proving that we're really all happy interoperable families after all, Microsoft, Intel and Adobe will join IBM, Yahoo! and PayPal at the seventh annual Evans Data developer relations conference this March in San Jose, California.
The analyst firm contends that this is, "The only event of its kind based solely on the purpose of bringing developer relations professionals together to discuss what makes developer programmes successful — and of course what doesn't work as well."
Evans has brought together an enviable bunch of speakers including Intel's chief evangelist and director of marketing James Reinders — as well as Alice Chou, director of IBM's developerWorks division.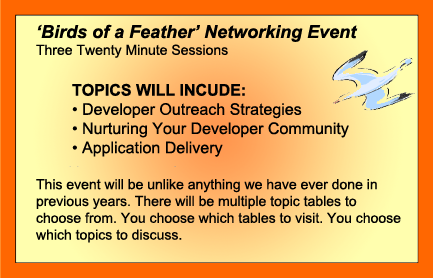 So what are these guys going to talk about?
Evans Data says that the speakers will focus on developer issues relating to topics such as the developer landscape in 2010 in terms of what has changed and what's ahead in 2011. As well as keynotes from the cream of the developer cognoscenti, this event will also feature live on-stage developer focus groups and specific marketing and business tracks.
You can view the complete agenda here, but of particular interest are the following two sessions, which appear to stand out.
Firstly, Adobe's Rachel Luxemburg has a session entitled "When Two Developer Communities Come Together" – how to work with partners and manage expectations when there's two developer organisations involved. One imagines that this session might be the coming together of Macromedia and Adobe's developer streams.
Secondly, David Intersimone who is VP of developer relations and chief evangelist at Embarcadero will present a session called "Moving From A Custom Developer Relations Program To An Off-The-Shelf Social Network Infrastructure" – Hear how Embarcadero is effectively doing this.
These events can be quite closed affairs as analyst houses rarely fund press attendance, one only hopes that the firm's internal publicity function shares plenty of content from the speakers when they do speak.