Microsoft Build 2015: notes from the keynote
Microsoft held its Build 2015 developer conference and exhibition at San Francisco's Moscone center this April.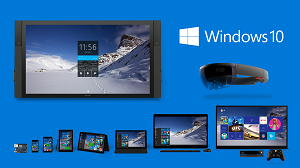 Company CEO Satya Nadella kicked off with a bit of nostalgia; Microsoft is now a 40-year old company. But that was the full extent of the reminiscing, this event is nothing but forward-looking.
Innovation inside?
Refreshingly, as far as Microsoft used its stage time to talk about new innovations all the way through Office, Azure, Windows 10 and onward to HoloLens, not one of the firm's spokespeople really used the term "innovation" over-and-over again… as is so often seen.
Maybe this really is the 'newly changed-spots' Microsoft with a more humble, more dedicated and altogether more sincere proposition for software application developers of every discipline.
Nadella: we're a platform company
So despite all the years that have passed, Nadella insists that technologies have come and gone, but Microsoft is a still a "platform company", just in case you were wondering what the firm thinks of itself today.
This of course means not just Windows, as a platform, but also Office as a platform, Azure as a platform and the full scope of Microsoft's product set for that matter.
"It is the mobility of the experience that matters, not the mobility of the device," said Nadella.
So perhaps think of the world according to Microsoft's platform mantra like this:
1. architecture and logic
2. platform
3. application
4. endpoint device
Enter Scott Guthrie, exec VP of cloud and enterprise… Guthrie's division of course looks after Azure.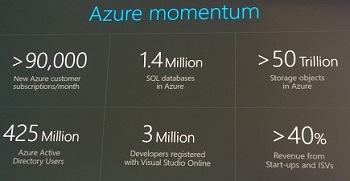 The firm's Azure compute region now manages more than 1 million servers and sits over more world regions than Google and AWS combined – a total of 19 by virtue of the firm's current data centre footprint around the globe.
There were more than 500 new Azure features developed over the last year and…
… and Microsoft's cloud is developing fast and some commentators have said that the firm is even better placed than both "cloud natives" Amazon and Google in terms of winning the next wave of industry development, momentum and kudos.
Microsoft is also well advanced in its support for Docker now. Ben Golub CEO of Docker was also invited to the stage for this event's keynote.
Golub talked about his firm has always set out to remove the need for developers to worry about the amount of rework they would typically have to focus on us… and the associated amount of dependencies that typically slowed then down.
Docker has not only addressed coding efficiency says Golub, but the firm has also been focused on content and collaboration with its DockerHub offering – and there are open orchestration efficiencies too.
"One of the best and most appealing surprises that we have had while working with Microsoft is that all our integration has happened so quickly," said Golub.
NOTE: Did you get that? An inherently open source company saying that it has integrated well with Microsoft and been surprised how fast things have happened.
Guthrie returned to the stage to talk about Azure Apps Service – this new product works to provide elements such as continuous integration, there are automatic building and auto-scaling capabilities (apps can be structured around rules that allow the app to intelligently scale upwards in terms of the amount of Azure juice they use based upon what they need only when they need it) — and, of course, more besides.
3.5 hours keynote
This somewhat 'stream of conscientiousness' level summary can not cover the entire first morning keynote and there were some massive news blocks which we will analyse separately.
Visual Studio Code is a code-optimised editor with IntelliSense, debugging and GIT… and it's free.
Azure Data Lake is a hyper-scale data repository for big data analytic workloads and integrated with machine learning and big data services from Microsoft, and partners like Cloudera and Hortonworks.
… and there were development details for Microsoft HoloLens, using one codebase and one store, with what the firm promises to be a 'consistent experience' across Windows 10 devices.
Last(ing) first impressions
Microsoft didn't do everything right here by every developer; you only need to scan down the Microsoft owned Windows Central Build blog keynote comments to see that some programmers feel disquieted and disenfranchised by some of the new moves to embrace Android and Java on Windows 10.
But Windows is going back to its roots, it's going to be pushed forward by a platform company in a world of new endpoints and new application delivery structures.
Windows 8 might have been a bit of sore point, but it just might have been the pain point that Microsoft needed to go through to really get its house in order.
As Endgadet put it, "When did Apple become the boring one?"