Michael Dell talks 'Zettabytes' at Oracle OpenWorld
This enormous IT show started off today with a presentation from Michael Dell. The man himself kicked off with an overview of the partnership that has existed between his company and Oracle since 1995. This week has seen the launch of a new Oracle consulting and implementation practice at Dell, so it's fairly safe to say that the two companies are snuggling up closer than ever.
Dell went on to detail a comparatively new measure of data in terms of our general awareness, the Zettabyte. A Zettabyte is 1.1 Trillion Gigabytes and studies suggest that by 2020, we'll all be creating about 20 Zettabytes per year and about one third of that data will pass through a cloud.
Dell went on to talk about servers, storage, networks and services. He lent towards talking about how Dell works at the application level by detailing several large implementations of Dell hardware and services by bringing out customers including Zynga Games (the people behind Farmville) and FedEx too.
Dell is pointing to 'next-generation' data centres that will power the new ways we handle data over the next couple of decades – clearly he wants to make sure that his company's servers are well positioned to drive these data banks – and it would be hard to argue that his relationship with Oracle will harm that objective.
The newly enhanced Dell Services Oracle Practice is designed to drive cost and complexity out of IT infrastructures. The company says that, "Dell Services also helps companies simplify data center operations with assessment, design and implementation services that focus on Oracle Database, including Real Application Clusters, in a standards-based x86 environment. These services are designed to enhance data availability while lowering the total cost of ownership."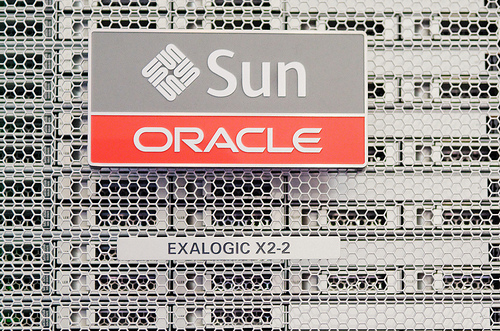 Given Oracle's own prowess in database hardware and the newly launched Oracle Exalogic Elastic Cloud, it's kind of hard to know where Oracle stands on hardware from a corporate policy perspective. On the one had, Oracle says that it buys a lot of Dell kit. On the other hand, the Exalogic box is described as the world's first and only integrated middleware machine – or to use Oracle's own words, "A combined hardware and software offering designed to revolutionise data center consolidation."
Either way, if Dell's Zettabytes predictions are true then we're going to see a lot of software application developers and database administrators being kept very busy in months and years ahead.