Lenovo: a Legend New(ovo) in hyperconverged infrastructure?
The dot com boom is over, so we no longer need to start spelling company names starting with lower case letters.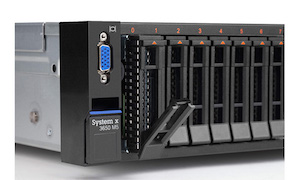 If anything, firms in this decade seem to think they can capitalise their entire moniker for extra (virtual) print points — and yes Nvidia, we do mean you.
SimpliVity is aiming to establish a new trend: random capitalisation in the middle of a word if you can find a letter that looks best as a stand out character in a corporate designation.
Unnecessary grousing and faultfinding notwithstanding then, what has the company with the random V been up to?
PartNersHip timE!
It appears that the firm has announced a partnership with Lenovo to deliver hyperconverged infrastructure solutions based on their joint technologies.
SimpliVity comes forth with its OmniStack Data Virtualization Platform which will now be available as an integrated solution with Lenovo System x3650 servers.
Lenovo VP & GM Brian Hamel claims that, "These high-performance systems will exponentially reduce datacenter complexity and costs for cloud-based services and mission-critical transactional systems."
What's inside hyperconvergence?
The SimpliVity OmniStack Solution running on Lenovo System x3650 M5 is a hyperconverged IT platform that provides all IT services below the hypervisor, including compute, storage and networking, real-time data de-duplication, compression and optimization functions along with built-in backup, disaster recovery and WAN optimization capabilities — in a single device.