Keep your ergonomic device ideas, try an iBeani
TechTarget defines ergonomics (from the Greek word ergon meaning work, and nomoi meaning natural laws) as the science of refining the design of products to optimise them for human use.
Human characteristics, such as height, weight and proportions are considered, as well as information about human hearing, sight, temperature preferences, and so on.
NOTE: Ergonomics is sometimes known as human factors engineering.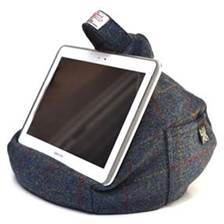 Over and above this we talk about HCI (human-computer interaction) as the study of how people interact with computers and to what extent computers are or are not developed for successful interaction with human beings.
At a software level we also focus closely on HCI aspects devoted to input controls from mouse, to voice, to touch and now onwards to facial and body recognition technologies.
But all of this notwithstanding, nothing really beats a really clever piece of innovation that just works like a bean bag does it?
The iBeani is manufactured entirely in the UK.
There are 16 different variations of the iBeani with different materials and designs such as Harris Tweed tartan, faded blue cord, butterfly, techno black, denim and others to appeal to men, women and children.
Ashley Freer, director at consumer product and service specialists DeVancer Limited has said that the iBeani tablet stand bean-bag was created because it can be so awkward trying to hold with one hand and navigate or type with the other.
"Having looked at other tablet stands on the market it was clear that each one had their faults, so we decided to create our own. After a lot of research, head-scratching and prototypes, the iBeani tablet bean bag was created, providing a great solution for users of all ages," he said.
The iBeani bean-bag will fit any tablet device of any size – any way round.
Image: the iBeani family, clearly just very excited indeed to be here.

CWDN opinion: Having personally used a pillow to 'prop' up my iPad mini in bed for the last few years I can honestly attest to the 'handiness' of the iBeani and say that it really honestly works. It's probably too bulky for any kind of desk based use, but on the sofa or coffee table and definitely in bed, this product is good. It also works well for long exposure time lapse photo taking from an iPad (for which there are many free apps) if that's your thing.