Just Do(wnload) It! David Lloyd Leisure's free mobile gym app
With Britain's post-Olympic 'feel good must get down the gym' factor at its peak just now, this is clearly the right week out of 52 to launch a new mobile health and fitness "app" to the market.
David Lloyd Leisure's free UK mobile app includes a club finder, options to view photo galleries of club facilities, introductory video guides, downloadable timetables for courses and classes and searchable profiles of personal trainers and tennis coaches (among other features below).
• App-dashboard – customised dashboard enabling users to view the information that matters to them
• Club 'check-in'- allowing members to record their club visits
• Notifications -up-to-date information on events, new product launches and offers
NOTE: Compatibility extends to iPhone, iPod and iPad's running iOS 4.2 and above — an Android version is also due for release soon.
"Many of our members lead very busy lives, but want to keep healthy and fit, which is why we try our utmost to help them slot sport and exercise regularly into their daily routines. This app will make our programmes and expertise more readily accessible at all times," said David Lloyd Leisure's head of digital marketing strategy David Brosse.
"The app is the initial building block for the provision of many new and exciting services we will be delivering over the coming months and years. New features for our app could include mobile bookings, music services, mobile payments, and the provision of engaging and educational videos; all of which will be a must for all health and fitness enthusiasts," added Brosse.
Given the current ubiquity of mobile device penetration today, can we now question where David Lloyd Leisure's app fits into the new mobile application development spectrum?
The three tiers of mobile app development
1. PRODUCTIVITY APPS — Email clients, big brand name social media (Twitter, Facebook etc.), TV players, maps, utilities (calculators, clocks etc), cloud storage (Skydrive, iCloud, Ubuntu One etc.) and perhaps Skype. Productivity apps are apps that a user centralises their device operation around and will ALWAYS be installed.
2. LIFESTYLE & PERSONAL APPS — Magazines & newspapers, health and fitness apps, games, travel booking clients, weather apps and perhaps podcasts. Like concrete apps these apps reside permanently on a user's device, but they say more about the person and the type of user that they are.
3. DISPOSABLE APPS — An increasingly popular transitory app that a user downloads for a week or perhaps even a couple of days while at an event or show of some kind — or possibly to join in with a special television broadcast.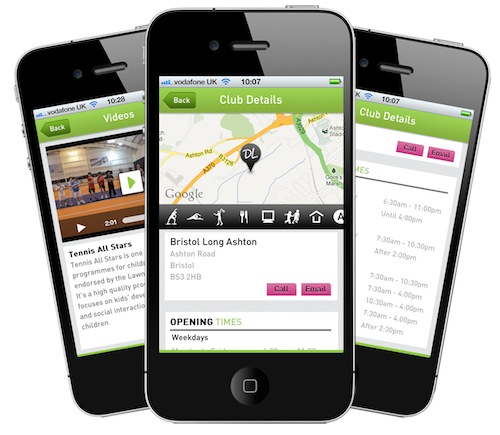 So with David Lloyd Leisure clearly falling into category #2, do we see a more district development pattern for programmers to be able to identify and target for their own innovations?
This suggestion may be stretching it I suppose, but as even casual users now appear to group their mobile apps by type, by favourite and by most used we may be able to define some new trends.
The app itself has been developed by Bristol-based specialist mobile agency AlwaysOnMessage and is available for free on the App Store.