Jive: engagement is the new social
After the recent news analysis surfacing in relation to Jive Software and its Jive World 2016 conference and exhibition, the Computer Weekly Developer Network blog fills in the missing blanks in terms of product news coverage.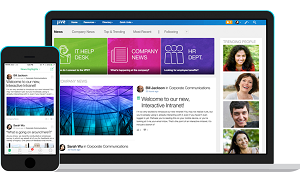 The firm used its convention this year to detail the mechanics of the Jive Employee Engagement solution — a collection of software intelligence designed to help nurture what the firm has called 'positive high-performance cultures' by making two-way communication, recognition and encouragement a part of everyday work.
Corp comms 2.0
In the mix here is a set of software built to help deliver corporate communications including tools for simplified content publishing.
Jive's software is all about providing capabilities for blogs, images and videos, auto-subscribed targeted news streams, a configurable news page and personalised email digests to draw users into the community, as well as impact metrics for message reach and sentiment.
There are also mobile intranet enhancements: the latest update to Jive Daily encourage visual storytelling by allowing users to take or add a photo from their mobile devices and share it directly into their community.
Other features added in today's Jive Daily release include the ability to mention places and create documents.
Jive: customers should be advocates
The firm's customer engagement solution is intended to foster the relationship between a company, its customers, advocates and partners. The latest release brings a new events centre, an updated browsing experience and enhanced analytics.
Coming soon is social listening integration along with deep event analytics functionality.
According to Jive, in the coming months the firm will help make employee and customer community events even more useful and engaging through the ability to directly manage an event lifecycle from before to during and after the event.
Social listening integration
Social listening integration? We had better get used to this term.
Jive is aiming to provide new social listening integration with Sysomos: brands soon will be able to route relevant conversations on social media directly in Jive-x community, increasing (so says Jive) brand affinity.
This integration delivers the ability to listen and respond to over a billion conversations online, in real-time, by enhancing social interactions and dialogue with community members, and improving customer satisfaction along with lowering call center costs.
"We know that the amplification of social conversations directly correlates with the overall reputation of a brand," said Mark Young, chief marketing officer at Sysomos. "Our integration with Jive Software allows users to monitor conversations on social media and proactively engage with prospects, customers and partners in real-time. Ultimately, the combined solutions increase brand awareness and affinity, and foster the customers' journey with the brand."
Jive's raison d'etre then is one hinged around building technology that goes beyond our current (or let's say 'previous' perhaps) notions of corporate communications that are rooted in the intranets and email correspondence of old.
The firm's software application development message overlays many of its front line technologies and the JiveWorld conference features a solid developer track every time it is staged – much of the developer interest is aligned towards customising core elements of the Jive stack to make them more carefully attuned to individual industry use cases.
One to watch? Yes for sure, despite Jive's financial challenges and occasional growing pains… although it's easy to list of a reel of 'me too' vendors who also provide core collaboration platform technologies, Jive is getting bigger and drawing a more sophisticated picture of collaboration tech overall.