Is it 'wear your cloud to work' day, yet?
Software application development professionals may have a new target market for programming to as a result of the growth in 'wearables' and their connection to cloud backend computing with big data analysis streams.
We say "may have", but let's just put that into context.
Sensors and wearables are about to have a huge impact upon the human race…
… a single transatlantic flight produces around 30 terabytes of potential sensor-based data that could be managed, stored and analysed for the greater good of passengers.
Take that estimated figure and mash that data up against other stored data sets and you can see where sensors (if also incorporated with wearable device data) could produce a new computing coalface upon which programmers can target new analysis-based applications.
Forget dress-down Friday… we are one step away from Wear Your Cloud To Work Day.
These suggestions are backed up by the cloud hosting provider industry itself too…
… a new study has emerged with "findings" analysing the impact of wearable technologies in the workplace on employee well-being, productivity and job satisfaction.
Preliminary results for The Human Cloud At Work (HCAW) report – the second part of a two-year collaboration between Rackspace and the Institute of Management Studies at Goldsmiths, University London looking at cloud-enabled wearable devices and their impact on UK businesses & consumers – show that employee productivity increased by 8.5% over a one month period for employees wearing wearable technologies, with job satisfaction increasing by 3.5%.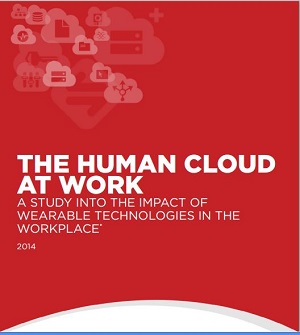 "These results show the potential power and application of wearable devices in the workplace from employee biometric CVs to organizational real-time executive dashboards for resource allocation," believes Dr Chris Brauer from the Institute of Management Studies at Goldsmiths who led the study.
"Wearable technology is arguably the biggest trend since tablet computing so it's natural that employees and businesses will look to use these devices in the workplace. Using data generated from the devices organisations can learn how human behaviours impact productivity, performance, well-being, and job satisfaction. Employees can demand work environments and hours be optimized to maximize their productivity and health and well-being."
Overall, the results of the study built on the findings from last year's report – "The Human Cloud: Wearable Technology from Novelty to Productivity" – which showed cloud is powering the wearable technology revolution – providing the rich insights from big data and giving firms, employees and consumers information they can use to make positive changes to performance.
"Many wearable technologies are focused on improving some aspect of an individual's life – whether it is for health and fitness, focus and concentration, productivity or job satisfaction," explains Nigel Beighton, UK CTO of Rackspace.
"The big step change for both individuals and businesses is being able to analyze the raw data and understand the wider context surrounding the data, such as the weather location, posture, even temperature and mood of the individual. By focusing on the data as well as the devices, wearable technologies can provide meaningful insights that can be used to improve performance and satisfaction. Essentially wearable tech and big data go hand-in-hand."
The focus on having the necessary IT in place to extract meaningful insights from the data is a key finding from the Human Cloud at Work study. The research found that one employee created upwards of 30GB of data per-week from the three wearable devices. Scaled across an organisation this is clearly a huge amount of information that needs to be captured, stored and analysed.
Infrastructure is the challenge
… and finally, according to quantitative Vanson Bourne survey of 300 IT decision makers in the UK, the greatest perceived barrier to entry for wearable technology at work was IT infrastructure with 20% saying that it was vital to have the necessary technology in place to take advantage of the data being collected. It also found that 29% of UK businesses have some form of wearable technologies project in practice with the main reasons being employee well-being (16%) instant access to important information (15%) and improved customer service (14%).