Intel IDF: the human side of 'affective computing'
The Computer Weekly Developer Network is fond of the Intel Developer Forum (IDF) show.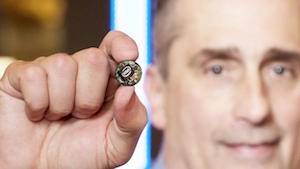 Reporting from afar this year we see that CEO Brian Krzanich has highlighted new products, tools and programmes that support the growing personalisation of computing.
The human side
Krzanich said computing has become increasingly personal, enhancing nearly all aspects of lives.
"Computers are on our desks, in our bags, in our clothes, in our homes and on our bodies. They are not only growing smarter and more connected, but gaining senses and becoming an extension of ourselves."
The firm says an ecosystem is emerging around Intel to address these growing opportunities for computing.
Affective computing, defined
Intel's comments lead us to consider what many are now calling affective computing.
According to MIT, "Affective Computing is computing that relates to, arises from, or deliberately influences emotion or other affective phenomena."
Back at Intel IDF… Krzanich unveiled a number of updates to Intel RealSense technology that the firm claims will bring depth sensing to more devices and applications.
It also announced new collaborations for securing the Internet of Things (IoT), in addition to programmes and toolkits for developers to help speed industrial IoT solutions to market.
For the highly personalized world of wearable computing, Krzanich provided updates on the Intel Curie module — technology designed to provide a low-power solution designed for companies interested in developing wearable technology solutions.