IBM's data (architecture) developer gets new tools
IBM makes a direct play for the "data developer" (or perhaps "data architecture developer") this month at its Insight 2014 conference.
Not quite a formalised term as such, IBM has previously talked about the "developer DBA", who is obviously a close relative if not in fact the same person.
The company is aiming to serve this new worker (by whatever name) with a new generation of data services on the IBM Cloud.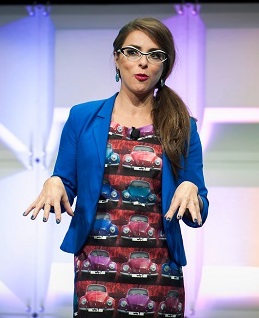 NOTE: Analytics pays back $13.01 for every dollar spent – 1.2 times more than it did three years ago (Nucleus Research) — yet, other studies show that data cleaning and preparation takes approximately 80 percent of the total data engineering effort (Taylor & Francis Group).
This above pain point, is what IBM is setting out to tackle.
The new cloud-based services promise options to :
• Simplify and automate the ability to find, refine and prepare data
• Warehouse data in the cloud, making it "instantly" available for analytics
• Curate unstructured data services to increase the confidence in analytics
• Enhance mobile and web applications with embedded analytics
"All the data in the world is useless if you can't put it to work. The new cloud-born services from IBM provide data professionals the ability to deliver data with speed and confidence as the fuel for applications and analytics," said Beth Smith, general manager, Big Data, IBM.
"The ability to source and manage the right data will help keep data management streamlined, while adhering to increasingly stringent regulatory demands, and produce results and analysis of real value."
The new services introduced by IBM claim to be able to provide capabilities to help shift from working on the data to putting data to work for their business.
• IBM DataWorks is a set of cloud-based data refinery services that shape, cleanse, match and secure data. The new services enable business users to find, use and contribute data for analysis; application developers to embed data services into new applications; and IT and data professionals to enable self-service data access and instill confidence to act on the data.
• IBM dashDB is a cloud-based data warehousing and analytics service with in-memory technology built-in. dashDB keeps infrastructure concerns out of the way of critical and time sensitive analytics. A new integration of dashDB with Cloudant, IBM's NoSQL database as a service (DBaaS), allows Cloudant clients to embed analytics in their applications.
• IBM Cloudant – IBM is extending its portfolio with Cloudant Local, an on-premise edition of the fully managed cloud database-as-a-service that enables a fluid hybrid cloud data layer that spans private data centers, mobile devices and third-party cloud providers. This ensures customers can easily reconfigure their cloud data platforms over time to optimise the cost, security, reach and performance.
Mini case study
The power of these capabilities could enable, for example, a ride sharing service company to improve their customers' experience by ensuring their drivers are in the right place at the right time. The company can take taxi trip information, captured in a mobile application running on Cloudant, directly into dashDB, and then use DataWorks to refine and load additional weather and traffic data to provide more insight. With dashDB, Cloudant and DataWorks working together, new insights can be leveraged to improve customer experience and grow revenue.
Watson Curator
IBM also introduced Watson Curator, a software-as-a-service (SaaS) offering that increases confidence in the delivery of quality content collections and governance for IBM Watson Solutions.
For example, an individual insurance risk analyst can quickly review and add context to documents so that many underwriters across the enterprise can get higher quality responses on risk assessments from Watson Engagement Advisor. IBM Watson Curator actively guides subject matter experts — in this case the risk expert — through the entire curation process in order to minimise the time and effort required.