IBM's Rometty: Watson developers will build a new era of computing
IBM used its presence at Mobile World Congress 2014 to show off its new charcoal grey stand emblazonments, press the obligatory flesh and generally crowbar the name "Watson" into as many conversations as possible.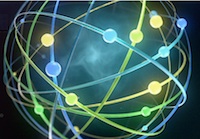 Naysayers have chided IBM for positioning Watson as some kind of panacea to cure all our computing ills in the future — criticism of this kind generally comes from commentators (if we deign to grace them with such a grand term) who still also rank IBM as a died in the wool company incapable of true bleeding edge innovation.
Comments like these are (arguably) somewhat tainted with a little jealously; IBM will probably be around next year.
Justification, validation and rationalisation aside, IBM is big on Watson.
What's Watson?
For those that need reminding, Watson is named after IBM founder Thomas J. Watson and it is IBM's massive data analytics supercomputer capable of working with humans in natural language to reason and learn as it provides answers.
Watson understands natural language and the system then generates hypotheses – recognising that there are different probabilities of various outcomes.
Back to Mobile World Congress then, IBM also used the show to launch its IBM Watson Mobile Developer Challenge a global competition to encourage developers to create mobile consumer and business apps powered by Watson.
The newly formed IBM Watson Group, aims to encourage developers to "spread cognitive computing apps" that could provide complex questions from massive amounts of disparate data into the marketplace.
IBM chairwoman and CEO Virginia "Ginni" Rometty is good for a soundbite if you need one; some of her best include:
• Be first and be lonely.
• Don't let others define you. You define yourself.
• Growth and comfort do not coexist
With Watson more specifically in mind, Rometty is urging us to imagine a new class of cognitive app that delivers insights instantly over the cloud.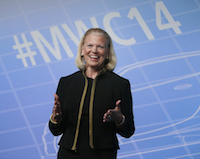 "You can't program enough to make sense of all the data in the world," said Rometty with regard to what she calls a new era of computing.

"You run a business today and you [must] reinvent it for the future at the same time," Rometty said. "Data is the world's new natural resource and it will become a key competitive advantage for every industry. I think we will look back at this time and see data as a resource that drove the 21st century."
The developer challenge
The IBM Watson Mobile Developer Challenge (part of the IBM MobileFirst strategy) invites mobile developers to share their best ideas to build and develop mobile apps into prototypes. Three winners will join the Watson Ecosystem Program.
The winners will work with IBM's recently launched global consulting practice, IBM Interactive Experience to receive design consulting and support from IBM experts to develop a viable commercial app.
IBM says it has advanced Watson what was a game playing innovation (it beat human contestants on the US quiz show Jeopardy) into a commercial technology — now 24 times faster with a 2,400 percent improvement in performance; and 90 percent smaller than the original system.
How the challenge works
Once developers have submitted their proposal, a panel of judges will conduct two phases of judging. The first phase will narrow the field to 25 finalists. Those finalists will receive access to the Watson API and sandbox so they can build a prototype to be judged in the second phase. From there, the top five finalists will pitch their concepts to a panel of IBM judges in a live session. The judges will then determine three winners who will have IBM mentoring support and sandbox access to build the next Watson-powered app.