IBM Software portal goes "all social media and that"
IBM has refreshed its software portal with a significant shake up in an attempt to rid itself of its image for being an old-style traditional IT company. Bringing in direct links to a blog, a community website, a Twitter feed, a LinkedIn networking group and the YouTube IBM Software channel — the company's web designers have clearly been busy.
Not too busy though, as of this morning March 15 2011 the site is still advertising the Pulse 2011 "premier service management event", with the tantalising headline:
"Optimising the world's infrastructure. Join us in Las Vegas. February 27 – March 2."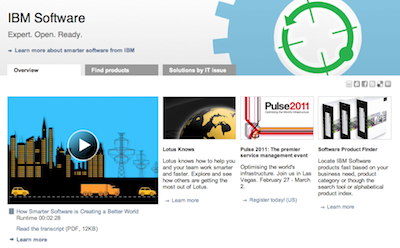 Still, it's not a bad effort. Companies such as Microsoft, Oracle and IBM have such vast swathes of information on their sites that it does become a struggle sometimes when you set off looking for something in particular.
A new direct "Software Product Finder" must be good news. The number of websites I review on a daily basis looking for product info or hidden "About Us" tabs is a rant you don't want me to set off on I promise.
There are also direct links to IBM developerWorks and pages for ISVs, so-called "software early" programs as well as software subscription and support and IBM systems software pages. All of which appear to somewhat apologetically list the tab (US) to denote their over-the-pond status.
There's also embedded video and a more dynamic feel throughout. Whatever next? Will IBM finally convince us that Notes is easy to use? Nah – don't push it right?