IBM & SAP bed down on collaborative co-location love-in
There's new harmony across the techie ether this week as IBM and SAP cast off their normal "no, our database is better" T-shirts and partner up on what they like to call co-innovation solutions.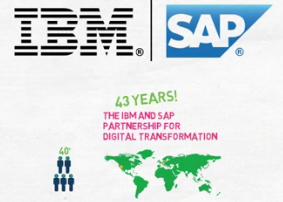 The HANA element from SAP (the company that makes SAP HANA) here will be enabled with SAP Business Suite 4 SAP HANA (SAP S/4HANA) software… so users will be almost assured of some HANA, from the SAP HANA team.
Co-location love in
The companies intend to co-locate resources in Walldorf, Germany and Palo Alto, California.
"The future of business strategy and business value will proceed from the foundational elements of this announcement — cognitive, cloud and the design of consumer-quality experiences in every industry," said Bridget van Kralingen, senior vice president, IBM Global Business Services.
SAP's Rob Enslin echoed this sentiment in his role as member of the executive board of SAP SE and president of global customer operations by saying that he was delighted with the partnership.
Collaboration specifics
IBM and SAP will collaborate on industry-specific cloud solutions and expand current SAP HANA Enterprise Cloud services to include ongoing application maintenance and support services.
IBM will develop cognitive solutions for SAP S/4HANA and line-of-business solutions that harness its cognitive APIs to drive decisions.
Other connections are focused on customer and user experience: IBM Interactive Experience (iX), a digital agency; SAP Global Design, the group behind Fiori UX; and the SAP Customer Engagement and Commerce team will work together on pre-designed experiences that can be customised for the for clients' customers and employees.
The companies will develop collaborative consulting models drawing on agile services and support methodologies from both organisations.