IBM Information on Demand Las Vegas: notes from a keynote
This week sees IBM host its Information on Demand conference in (fabulous) Las Vegas. But this is not an extension of the IBM Rational Software Developer Conference, so what is this event all about? I initially thought we were going to be fed and endless stream of business intelligence (BI) content as there is some fairly heavy Cognos branding emblazoned across some of the welcome areas.
In truth, this event is rather more focused on 'real-time data analytics with scalability'. Now that was five words if you don't count the 'with' — and if IBM is doing one thing this week so far, it is using a long list of descriptive terms to talk to the 10,014 registered attendees for this conference.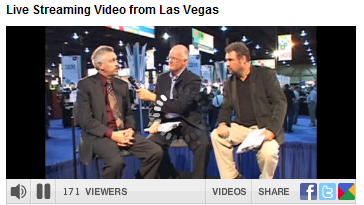 Robert LeBlanc, IBM VP for software & middleware took to the stage for a broad brush definition of what the company's recent CEO survey had uncovered in terms of 'insight' into current data trends.
CEO's want creative leadership according to LeBlanc — something he says translates into new and innovative business models where customer relationships are approached from a data-centric viewpoint i.e exactly HOW should a company share information with its customers?
But if that sounds like marketing-speak then LeBlanc's next comments were peppered with so many 'flowery' tech-business terms that he started to lose me to be honest. "We're looking at data environments with new additional volatility," — "We're looking at fundamental economic enablement," — and finally (wait for it) IBM and its partners want to explain how we should, "Operationalize the benefits of a single view of scaled integrated data."
Thankfully, LeBlanc spent some time explaining what IBM is really doing to make this "operationalization" actually happen. It is work to enhance the company's massive storage compression technologies, innovation within the IBM information server, fault tolerance provisioning and more.
Some more hard facts for you: IBM has invested US$14bn in data analytics over the last four years, over which time it has made 24 acquisitions. The company also employs more than 200 IBM mathematicians who focus exclusively on nothing but data analytics — and this has given rise to over 500 patents in the field of analytics to date.
Somehow you just wish the speakers could start off with more hard facts and less big picture postulating – or am I being picky? More to come throughout the week…