IBM Impact 2014: composable, unbundled consumable cloud development
IBM staged its Impact 2014 conference in Las Vegas this week to what is said to be 9000 attendees (IBM clients, business partners, developers etc.) from (probably) most of the civilised nations on Earth.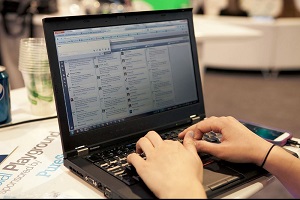 One could describe Impact as IBM's cloud event, but this means it is also the company's infrastructure and mobile event. This is logical enough isn't it? Cloud needs infrastructure and delivers (through apps) to mobile surely?
IBM now operates 40 datacentres worldwide and says it has invested more than $7 billion in 17 acquisitions to accelerate its cloud initiatives.
IBM software lead Robert Le Blanc is always good value for a keynote speech. The Computer Weekly Developer Network has interviewed him one-on-one and he's an application evangelist beneath the corporate VP image.
Composable unbundling
But today was about the big picture and Le Blanc spoke of the need to integrate right across the enterprise — the need to "restlessly" innovate constantly and to realise that now is a time when a really personal computing era starts to arrive and we see that there is an unbundling of business service offerings.
This is what IBM has designed and deigned to call the COMPOSABLE BUSINESS…
Yes this is essentially just a marketing label, but IBM has a lot of guts and intestinal cabling behind its top level messages, so what does the company mean by this term?
They key roles involved when building a composable business:
Business leaders
Developers
IT Leaders
"If I had known where software application development would go I wish … well, I wish – I would probably still be a developer today because this is such a great time to be a developer," said Le Blanc.
IT leaders in IBM's newly envisioned model are directly responsible for provisioning cloud applications and making sure they are not only available, but always secure — data does not just reside inside the four walls of the business, so security must come to the fore.
SURVEY: 2/3 of online procurement buyers would stop buying from a vendor if they had a breach.
For cloud developers, access to APIs will be crucial. IBM's newly announced IBM Cloud Marketplace is a large part of the firm's answer here. Over 200 IBM (and third party) software and services will be available on this offering.
So is this 'just' a channel announcement, or is there substance here for real cloud-centric software application developers?
Despite poor Internet connections, IBM Le Blanc engaged in a live demo that leaned towards explaining how its DevOps approach will help real cloud apps start to come to the fore with technology focused on delivering:
GitHosting
Continuous Integration
Agile Development
Plus also big data tools to help real cloud apps come online:
MapReduce
Cloudant
Time Series
Liberty for Java
BLU acceleration
So looking at BlueMix which was announced in February at Pulse (formerly Lotusphere), this technology for rapid application development and integration gets a whole new set of tools right now. These are incremental extras like "cloud application auto-scaling" – really very core functionality needs for real cloud environments.
NOTE: Also in this vein we see that Impact itself features a [email protected] set of session tracks for cloud developers to learn how to build applications and integrate them on or off premise.
So back to this COMPOSABLE business notion. Compos-ability is (arguably) very close to the consumer-driven model which typifies much of what we see with online services today. As an example, look at Netflix or the growing number of car sharing businesses that sell options to use cars for short periods of time on a membership basis.
THE BIG TRUTH — Consumers are more interested in having access to goods and services than they are in possessing ownership of those good and services.
The follow on here is that every cloud-based mobile interaction is now starting to become a mobile transaction.
Further analysis of IBM's notion of the composable business is needed here… the keynote is wrapping up. Let's drill into IBM Worklight and abd IBM's approach to MobileFirst application development as we look forward.
… more details will follow.