How to build a community application platform
Social reality number #1: companies today need individual employees to be ambassadors of the firm's brand.
Social reality number #2: the job title 'head of community' is now very real.
Social reality number #3: the IT industry is selling software to build professionally branded and 'gamified' communities.
Why the reality check?
Because Jive Software has announced the fall (they're American, they just mean November) cloud release of its JiveX external community platform.
The software is an 'external community application platform' designed to be used for building partner and customer engagement communities.
JiveX works to give community managers (and participant users) ROI-focused analytics and so-called "brand affinity" with interactions across both mobile and web.
"In the digitally connected world, an engaging community for customers and partners is a business imperative. However, in order to unlock the true potential of these communities, brands need to deliver user experiences that create meaningful engagements and interactions with their audiences," said Clara Liang, chief product officer, Jive Software.
"Our latest update to the JiveX platform provides companies with even more ways to put their users first, enabling brands to better encourage and increase participation and discussions within the community," she added.
By showcasing 'top and relevant' activities, users can scan for the most important posts, questions, announcements and discussions.
New role badges provide a visual cue of a user's role (such as community administrators, moderators, experts and champions) so members can easily associate what someone is saying to their role in the community.
With new 'Most Helpful' ratings, users can effectively identify the most helpful replies to questions with a yes or no vote to guide other community members more quickly to which content was the best and most helpful.
With new ROI analytics, community managers can access new reports providing quantitative data enabling them to demonstrate the value of their community.
Community managers can now take advantage of new simplified management capabilities to customize their community's mobile browsers to deliver the best browsing experience possible while providing the same flexible layouts equivalent to the desktop experience.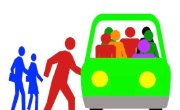 Social reality number #4: a real company being social
"At Sidecar, our community is arguably one of the most important elements of our business – providing a shared voice among our corporate offices, network of drivers and our valued customers especially on mobile devices," said Maria Ogneva, head of community, Sidecar.
Sidecar is marketplace for people to give (and get) rides from their mobile phone
Ogneva says that she uses this software to 'encourage and empower' each individual employee to be ambassadors of the firm's brand.
Social reality number #5: Jive CEO Tony Zingale is nothing if not social.
Social reality number #6: Social systems are now part of the CIO/CTO roadmap.
Sean Dahlberg, community manager at Spiceworks insists that his opinion here is relevant as he represents an IT community with six million users where brands such as Dell, Microsoft, HP, IBM, Dropbox Box and 3,000+ others connect with their customers and prospects.
"Professionals in all industries are using specialised communities to connect and engage with each other whether the brands trying to sell to them are actively participating in those conversations or not," said Dahlberg.
"We see it every day in the Spiceworks. Brands have an enormous opportunity to join the conversation in an open, honest way on their customers' turf. Doing so can help humanise the brand and create a one-to-many discussion on topics both parties care about," he added.
Social reality number #7: The anti-social company is dead, eventually.