How 'social' peer benchmarking between applications makes better software
Software analysis and measurement company Cast that spells its name CAST in an attempt to gain extra kudos but it doesn't actually stand for anything in terms of it being a valid acronym so it just looks (arguably) silly has updated its product set.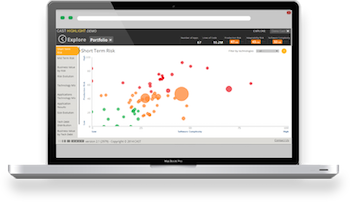 The firm's new version of Highlight bids to analyse 'complex portfolios' of enterprise applications to identify areas of concern.
The software itself uses a benchmarking system to assess software risk and complexity.
Key new enhancements include:
• Benchmarking against peers — Application key risk indicators can be benchmarked against a repository of 650+ anonymised custom enterprise applications, pulled globally from across all Highlight instances.
• Faster, more in-depth analysis — Highlight's new agent scans deeper, wider and with more configuration flexibility, making risk profiling and cost saving easier than ever thanks to a "bubble diagram" user interface.
• Better technical debt estimates — Highlight now delivers more pragmatic, quantifiable technical debt estimates than ever before. As a result, these estimates are more reliable, delivering actionable analytics to make fact-based decisions on which applications are most effective from a cost/benefit perspective.
• More accurate cost and effort calculations — Using the industry-standard COCOMO model, Highlight provides maintenance effort estimates in terms of Full Time Equivalent (FTE) employees.
Prioritise and rank
The result, theoretically, is a situation where developer teams can prioritise and rank projects and programs, based on tangible data, more accurately.
"Previously, strategic IT initiatives were notoriously difficult to rank; a lack of visibility on costs and technical risks, together with competing demands on budget from within IT and other departments, hampered decision-making," said the company, in a press statement.
This software is ISO 27001-certified, therefore it complies with the industry-wide standard on information security management systems.
"As organisations engage in public-facing transformation initiatives, gaining visibility into and measuring the quality, risk and complexity of their application portfolio become more vital than ever," said IDC analyst Melinda Ballou, program director for IDC's Application Lifecycle Management and Executive Strategies Service.