How should developers learn the cloud?
I've invented a new game. It's called "Cloud Teach or Leech". Here's how you play.
Open up your browser and Google "xyz cloud tuition" and look at the results where xyz = a cloud hosting provider of your choice.
If the majority of your search results relate to xyz provider trying to tell you how well its cloud services work in the education market, then you have a leech and a bloodsucker. Go to jail, do not pass GO, do not collect £200.
If you manage to get some results detailing developer learning resources for cloud focused programmers then bingo! You have won a cloud teach star!
With my new game system you'll be able to assess whether a cloud player is more concerned with winning new customers than trying to promote skills excellence.
Now I could pick any major vendor, but as Microsoft's 'Learn' portal for Azure isn't half bad, let's take a quick look.
This site sets out to provides guidance on getting started, data, managing services, planning & design, access control, service integration, monitoring, migration & performance.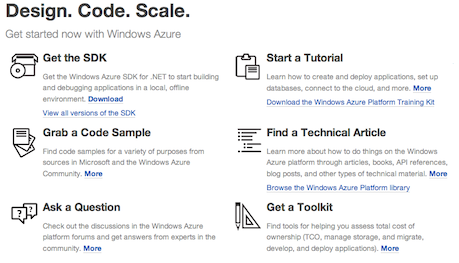 Mark Quirk, Azure product manager at Microsoft UK points out what he calls a "key resource" available here — the getting started page is essentially the Windows Azure platform training kit which includes walkthrough tutorials, code samples and what Microsoft likes to call "real world guidance" for programmers.
Speaking to the Computer Weekly Developer Network blog directly, Microsoft's Quirk explained the skills challenge (and opportunity) for cloud developers here.
"Once you have installed the Azure SDK, it's really straight forward to get started. The complexity is really dependent on your application and your existing knowledge. For example, if you want to build an application that dynamically scales up and down, your understanding of how to design an application that scales across multiple servers will have a big impact — a much bigger impact than understanding the tools or SDK," said Quirk.
There are versions of the SDK for .NET, Java, PHP and Ruby, though the core SDK can be used for any programming language/runtime.
"There are additional helper device toolkits to simplify working with specific devices (there's no requirement to use these kits, they are helpers) — for example there are toolkits for Windows Phone, Apple iOS and Google Android," he added.
So Microsoft appears to take cloud developer training pretty seriously. Can we knock them for anything? Not really — the company uses some of the key cloud-centric messages that its competitors are fond of, but that's hardly a crime.
Do Microsoft's learning resources come with a cheesy smile and the odd "we're super excited to bring you this new development" type of comment?
What do you think?