How "healthy" are your mobile application downloads?
The developer's godparent: application resource controls are on the rise
Are mobile developers going to have to become more aware of the system resources their applications consume… and therefore feel compelled to program more efficiently?
This is the question that arises in light of the increasing number of "system monitoring" tools being offered (generally free of charge) from App Stores such as BlackBerry App World, Google Play and the Apple App Store
Resource hungry appetites
Available now is the Application Resource Monitor for BlackBerry 7.1 tool. This free download has been produced in order to help maximise battery life and alert users as to the most "resource hungry" apps on their device.
Research in Motion says that Application Resource Monitor (or ARM for short) will only trigger an alert for apps that are running but not in use, or are running while the device has been idle.
Users may also choose to turn off the feature, ignore the alert, or add an app to a white list, which will cause the ARM to ignore it moving forward.
The BlackBerry help blog suggests that this tool will most useful to users who often leave an app running with the full intention of coming back to it, but get distracted so that it is left forgotten.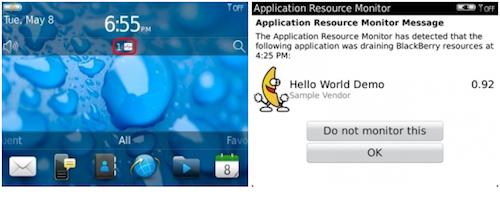 The ARM app is part of a family of apps that includes Battery Saving Mode and Application Manager, which help users to optimise battery and memory usage.
So returning to our question…
Are we about to witness some rise if developer efficiency initiatives if more users are more aware of what any installed app loads onto their device?
Will resource inefficient apps start to feel the impact of natural selection and become less popular as a result?
Will "program optimisation" techniques now come to the fore?
Will POaaS "Program Optimisation-as-a-Service" techniques in virtualised cloud environments now come to the fore?
Or will we just stay the same?