How do we make video collaboration ubiquitous?
Unified communications company Polycom is aiming to make video-based collaboration technologies "even more" ubiquitous across major industry segments.
The open standards focused unified communications (UC) company wants to see more video collaboration for governments and organisations focused on healthcare, education and manufacturing — as such, it is releasing a new suite of open APIs designed to facilitate the development of custom-built applications.
But what does it take to make video collaboration ubiquitous?
It's all about interoperability of course; that way we can all talk to each other.
Actually, to be honest — it's all about interoperability, scalability, manageability, and secure delivery. But you get the point.
Polycom's gambit in this regard is its RealPresence Platform for universal video collaboration. The firm's new developer-focused release of APIs and software development kits (SDKs) is hoped to provide programmers within enterprises and organisations to tailor applications to integrate with Polycom RealPresence video solutions such as provisioning, scheduling, conference management, billing and resource reporting.
Anti-Virus company McAfee is said to be using this technology to engage multiple globally distributed engineers to support its most critical job cases.
"With the advent of the new software updates to the platform, especially the open APIs, we envision being able to far more easily and cleanly integrate the software we use to support our customers," said David Piekarski, senior manager, global telecommunications operations at McAfee.
Video also needs — scheduling, management… and provisioning.
As well as a new online developer community for API support, Polycom is also now providing its RealPresence Resource Manager for scheduling, management, and provisioning. This technology works to manage up to 10,000 devices.
"The RealPresence Resource Manager makes it easier for IT administrators to manage their organisation's video collaboration network and support up to 10,000 devices including room and immersive systems, tablets, smartphones, laptops, and executive video desktops," said the company, in a press statement.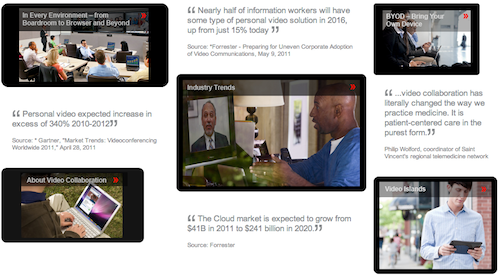 "As more organisations realise the benefits of collaborating face-to-face by video from anywhere – benefits such as increased productivity, improved engagement, and reduced operational and travel costs – they want to fully incorporate video into their business processes and workflows to make usage as easy as possible," said Sudhakar Ramakrishna, president of products and services, Polycom.
"Our new suite of APIs for the RealPresence Platform will provide this integration and give customers greater flexibility to innovate as they further build out their video collaboration networks to drive significant business value. At the same time, we're delivering more scalability and manageability to IT administrators who are looking to video-enable their organisations."