Google's Developer Competition For I/O Tickets
The Google I/O developer conference appears to be one of the most popular and over-subscribed events on the software industry calendar. The suggestion has been made that this year's event sold out in less than an hour.
For those disheartened software application developers who just can't live without a trip to San Francisco this May to scrum down with the search Giant, there is still hope.
Google is running the 'Last Call for Google I/O' competition is a series of 10 developer challenges that will provide tickets to 100 winners.
Coders have just 20 hours to complete each challenge and coding will centre on Android, Chrome, App Engine, YouTube APIs, Google Maps, Developer Tools and Google Apps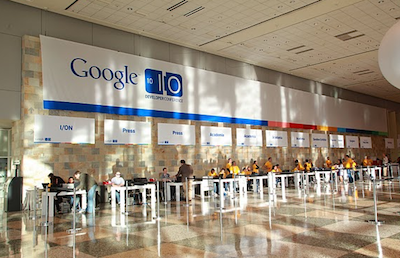 Google's vice-president of engineering Vic Gundotra has said, "Here's how it works. We will announce a new challenge on the contest site on select dates at either 9am or 4pm PDT, that will last for 24 hours each. There will be 10 days of challenges with 10 winners on each day."
The challenge spans the following developer products:
• March 16 – Android, 9:00 am
• March 17 – Chrome, 9:00 am
• March 18 – App Engine, 9:00 am
• March 21 – YouTube APIs, 9:00 am
• March 22 – Game Developers, 9:00 am
• March 23 – Google Maps / Geo, 4:00 pm
• March 24 – Commerce, 9:00 am
• March 25 – Developer Tools / GWT, 9:00 am
• March 28 – Accessibility, 4:00 pm
• March 29 – Google Apps / Enterprise, 4:00 pm