Geeks urged to "cook up" better development in the kitchen
In the spirit of a good Friday blog, I want to mention the recent release of a new book called "Cooking for Geeks: Real Science, Great Hacks, and Good Food" from O'Reilly. The company so well known for its 'CookBook' series of developer-centric books normally focuses on C++, Java or .Net as its main ingredient source – but this new geek cookbook is actually directed at software programmers' interest in the kitchen and all its mechanics.
But hang on – developers don't cook do they? They eat pizza and drink copious amounts of Dr Pepper and Mountain Dew don't they?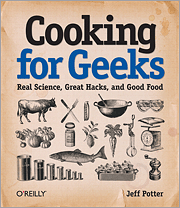 Well, the opposing theory is that software engineers ought to be interested in the mechanics of, well, pretty much everything really and that these guys (and girls) ought to be fascinated by the science behind what happens to food while it's cooking – right?
"Cooking for Geeks applies your curiosity to discovery, inspiration, and invention in the kitchen. Why is medium-rare steak so popular? Why do we bake some things at 350° F/175° C and others at 375° F/190° C? And how quickly does a pizza cook if we overclock an oven to 1,000° F/540° C? Author and cooking geek Jeff Potter (@cookingforgeeks) provides the answers and offers a unique take on recipes–from the sweet (a "mean" chocolate chip cookie) to the savory (duck confit sugo)," says O'Reilly.
"Readers of Cooking for Geeks will be much more comfortable walking into the kitchen, picking up a frying pan, and trying something new after reading the book," says the book's author Potter, who has been cooking since he was a child growing up in California. "Cooking for Geeks shows you how to have fun in the kitchen by blending science with cooking and takes a playful, quirky approach to teaching you how to be a better cook."
The publicity information accompanying this book's launch say that thus book will help you: "initialise your kitchen and calibrate your tools," as well as give you the chance to "learn about the important reactions in cooking, such as protein denaturation, Maillard reactions and caramelisation, and how they impact the foods we cook."
So what's your take on this? Should programmers be interested in the science behind their food? Will they want to know the perfect temperature to broil a Philly CheeseSteak sandwich at?
Or will they just order the Dominoes/Papa-John double pepperoni meatzanator and not think about how it came to be as they get back to the command line?