Games: the 'most popular' form of mobile application
There's a TED seminar by Jane McGonigal which extolls the virtues of games, gaming and so-called "gamification". Let's just say that again — games have become a seminar discussion topic.
McGonigal says that we invest three billion hours a week playing online games. So games, as we know, have become mainstream big business and now enjoy as much publicity hype as new movie releases.
Edinburgh based Runtime Revolution Ltd (RunRev to its friends) clearly recognises this and has used games to promote its visual development system by launching the LiveCode Game Academy promo this month.
Stating that games are the most popular form of mobile apps today, comprising 70-80% of all mobile downloads, RunRev's new programme reaches out to "both new and experienced developers" who are being encouraged to use the company's natural language programming environment where application changes appear in real-time.
NB: natural language programming or high level programming languages are characterised by their proximity to English and (conversely) their "abstraction" from the machine code which, at its heart, a computer will natively speak — so to speak.
RunRev's academy (well, no obligation promotional vehicle really) runs from December 6 to January 31 and offers would-be (and experienced) mobile app developers an "accelerated course in the principles of programming and game creation".
Areas covered will include:
• Game design considerations
• Basic gameplay coding
• Animating game pieces (the ability to manipulate sprites)
• Working with layers and backgrounds
• Deploying to your iOS or Android device
• Marketing your game
"Our initial LiveCode Summer Academy was a tremendous success and a great help to hundreds of developers who walked away with a mobile app after seven weeks," said Kevin Miller, CEO of RunRev. "The mobile gaming industry generated nearly £5 billion this year and is expected to reach £7 billion by 2014. This market prospect offers developers a tremendous opportunity for growth and success, and LiveCode will help them get there faster and easier than any other development environment."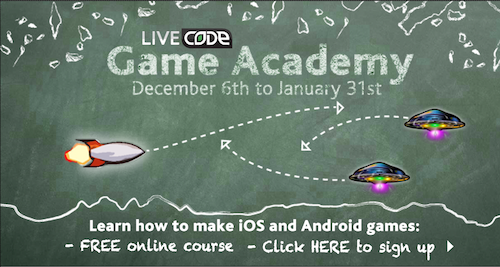 The LiveCode development environment enables shared code across multiple platforms and devices. In addition to LiveCode for mobile devices, deployment packs include Windows desktops, Mac OS X desktops, Linux desktops and web browsers on Windows, Mac and Linux.