From sand to silicon: Intel Developer Forum 2010
Intel likes to talk about the future – and the company has been pretty adept at playing the 'industry visionary' ever since Andy Grove wrote his seminal book Only The Paranoid Survive back in the nineties.
It should come as no major surprise then that the company has been talking about building a foundation upon which to build common hardware, software and ecosystem solutions since its Beijing Developer Forum, which was held in April of this year.
The Computing Continuum?
Trying hard to coin a new industry phrase or catch line, Intel would like to see its processors and supporting technologies proliferate across devices so that a common and connected computing experience is made possible – "across the computing continuum" as the company puts it.
Intel points to the prediction that there will be an additional 1 billion connected computing users by 2015 and that with more types of devices there is great value in providing a common experience between the devices.
Of course it's no major revelation to hear Intel say this as this is the common mantra shared by many industry vendors, but given the company's array of 'touch-points' to so many devices – it would be worrying if we weren't hearing it. For Intel, a seamless cross-device experience means desktop computers, mobile devices and also data connectivity inside cars and throughout the home. The message is "consistency and accessibility" to information.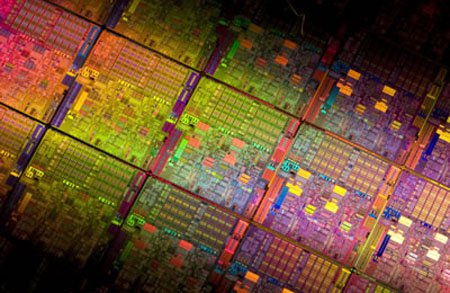 So moving forward to the company's USA Developer Forum, which is being held this week in San Francisco, the news is focused on the company's 2011 2nd Generation Intel Core processor family and the new opportunities that are being created for developers through better chip performance, battery life and a number of visually related features built into the chips themselves.
Sandy Bridge
Codenamed "Sandy Bridge," the company says that its latest chips will be based on its first new "visibly smart" micro-architecture produced at 32-nanometre. For the record, one nanometre is a billionth of a metre – and visibly smart is Intel's marketing term for on-processor graphics capabilities.
"The way people and businesses are using computers is evolving at an explosive rate, fueling demand for an even more powerful and visually appealing experience," said Dadi Perlmutter, executive vice president and general manager of the Intel Architecture Group. "Our upcoming 2nd Generation Intel Core processor family represents the biggest advance in computing performance and capabilities over any previous generation. In addition to offering these features inside Intel-based laptops, we plan to scale these advances across our server data center and embedded computing product portfolio."
Intel says that its new processor family will include a new "ring" architecture that allows the built-in processor graphics engine to share resources such as cache, or a memory reservoir, with the processor's core to increase a device's computing and graphics performance while maintaining energy efficiency.
Laptops and PCs powered by the 2nd Generation Intel Core processor family are expected to be available early next year.