Free iPad app for secure enterprise-level single sign-on, really?
Programmers working at the coalface of cloud services development just now will no doubt have the words "secure access to corporate data via mobile" ringing in their ears at some point.
For some time now the emphasis has been on methods to develop and refine secure remote access and (if you have the appetite for some more intense industry phraseology) so-called "robust remote synchronisation to the corporate data centre"… from smartphones to tablets to laptops to other embedded computing devices.
What we obviously need here is a free iPad app for secure enterprise-level single sign-on.
Could OneLogin's eponymously named OneLogin for iPad be the solution we are looking for? The company claims to have provided enterprise-class identity and access management for private and public cloud applications.
"Our industry-first iPad app has mobilised one-click access to any web application, securely and at no additional cost," said Thomas Pedersen, chief executive officer of OneLogin.
"Before today, mobile users were forced to deal with watered down versions of applications, and the cumbersome process of entering information on the iPad hampered both productivity and adoption. Today, we can take virtually any SaaS application and make it immediately useful on the iPad."
OneLogin uses multi-factor authentication for security and the app also allows for identity-driven iPad security, allowing IT executives to address bring your own device (BYOD) security concerns by managing access down to the user and application level.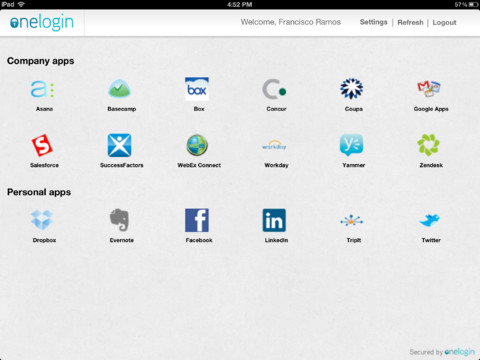 "Mobile device management (MDM) has done a good job of securing the first wave of mobile devices entering the workforce, but can often fall short in providing capabilities that secure the applications themselves," notes Eric Ahlm, research director with Gartner, Inc. "We are seeing a trend of companies struggling with the 'next app' phenomenon asking Gartner how to secure a broader set of applications on mobile platforms beyond email."
According to Gartner, Inc. Apple's iOS is predicted to remain the dominant media tablet operating system around the world in 2012 with 61.4% sales to end users.