Do you speak multilingual semantic Artificial Intelligence?
First there was Artificial Intelligence (AI), then came machine learning… neural networks and finally cognitive computing technology.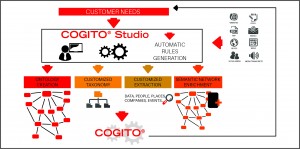 Effectively, they all mean the same thing.
But then came multilingual cognitive computing technology.
Cogito Studio is a product for developing customised semantic applications for text analytics, including information analysis, categorisation and extraction.
Developed by Expert System in the US state of Maryland, Cogito Studio combines a cocktail of AI algorithms for simulating the human ability to read and understand language (semantics) and deep learning techniques (machine learning) to help optimise the creation of applications that are advanced, intelligent and intuitive.
"In our vision of AI, typical deep learning algorithms for automatic learning and knowledge extraction can be made more effective when combined with algorithms based on a comprehension of text and on knowledge structured in a manner similar to that of humans," said Marco Varone, President and CTO, Expert System.
Cogito Studio insists that it will help software application developers to optimise the launch of new projects by automatically learning new knowledge, such as that for a specific domain, by applying its flagship semantic technology that reads and understands words in context.