Did Microsoft get it right with the Start button after all?
The disappearance of the Microsoft Windows Start button (or "Orb" if you are Windows 7 purist) from the Windows 8 iteration of the firm's core operating system offering caused a considerable public outcry.
The masses appeared to resist change from Redmond's most revered user interface evangelists.
But out it went and Metro came in with its tile-sliding "tablet and smartphone friendly" approach that we were all just "supposed to get used to" right?
Windows phone 8 meanwhile has been doing reasonable well with its arguably better "no manual needed" functionality. More intuitive than even the BlackBerry? Well perhaps yes.
But reaction to Windows 8 proper was harsh — and even Ballmer was forced to admit that changes made in Windows 'Blue' 8.1 needed to bring the Start button back, because users had demanded it.
Was Microsoft having a "New Coke" moment and reverting back to its old recipe based upon user pressure?
For Windows 8.1 Ballmer promised "a refined blend" of the Microsoft desktop experience and application experience. "You will see we will bring back the Start button to the desktop. You will see that if you want to boot to the desktop, you can boot the desktop," he said.
… and so it came to pass and the Start button came back and everyone lived happily every after — or is that not the end of the story?
Having just installed Windows 8.1 Pro Preview Evaluation Copy Build 9431 on a Surface Pro machine (see screenshot at bottom of page), you will see that the Start button has reappeared. OK its not as colourful as it could be, but Microsoft has confirmed that the "Windows 8 years" are characterised by what is now a rapid release cycle, so it may get a new lick of paint at the next release, or the one after that.
So here's the point.
It's not really a Start button. There are no "flyout menus" emanating from the Start button.
A left click takes you straight to Metro tile anyway.
A right click gives the option to Shut Down or select Programs and Features, but this is a link to your installed programs system folder.
This is not the Start button of old and many would argue that neither should it be… allow us to explain.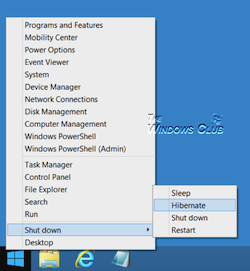 Image credit: http://www.thewindowsclub.com/
All of the functions offered by the new Start menu are easier to access by hitting the Windows key to get you to Metro (if you are not there already) and physically typing the word of the function (or app, or setting, or whatever) that you are looking for so that the Search Charm automatically pops up and locates this function for you.
This was something of a personal realisation after owning a Lenovo Windows 8 desktop, then coming to an Intel based X1 Carbon ThinkPad and finally to the Surface Pro.
While I had struggled with the desktop Windows 8 non-touchscreen to start with, the touchscreen Carbon ThinkPad obviously eased me slightly closer to the world of Windows 8… but it wasn't until I hit the Surface Pro that I started to get it.
… and here's the REAL point of this story.
I then went back to the desktop non-touch Windows 8 on my desk, which is not running Window 8.1 yet and started using Windows much more naturally and intuitively. At this point, the non Start button Windows 8 starts to feel completely normal.
Now then — not everyone is going to be lucky enough to play with three form factors and try things out on this kind of learning curve. But at this point I am wondering did Microsoft get it right with the Start button removal after all?
Oh and the point for software application developers?
The impact of touch, Windows 8 and Metro may yet have a far deeper impact on the programming landscape — for those users who may chose to make the Surface Pro their device of choice especially.
I'm feeling no pain without a Start button and I don't need it back. OK it is back, but you get the point right?