Developers now working on Internet Explorer 10
Microsoft has released the second version of what it calls the "platform preview" of Internet Explorer 10. This is the developer-centric stripped down GUI version of its next browser presented in a "bonnet up" style so that programmers can tinker and learn.
With this update, Microsoft says that IE10 continues to deliver support for "site-ready HTML5 technologies", as well as improving performance through support for several new technologies like CSS3 Positioned Floats, HTML5 Drag-drop, File Reader API, Media Query Listeners, and initial support for HTML5 Forms.
According to Microsoft, "HTML5 application performance improves across the board, as well as the ability to deliver better performance with more efficient use of battery life with new technologies like Web Workers with Channel Messaging, Async script support, and others."
Web application security is said to have been improved, using the same markup with support for HTML5 Sandbox and iframe isolation. Microsoft is keen to highlight IE10's continuation of IE9's precedent for enabling web applications to do more in the browser without plug-ins.
"It also continues the pattern of offloading work to the parts of a PC that are best suited for them, like the GPU for graphics, and different processor cores for background compilation of JavaScript," says Microsoft's IE development lead Dean Hachamovitch, in his IE10 blog post.
IE10 supports CSS3 Positioned Floats to enable text flows around figures on a page, building on IE10 PP1's support for CSS3 grid, multi-column and flexbox — if that sentence is beyond your technical scope, then this image tells the story far more clearly: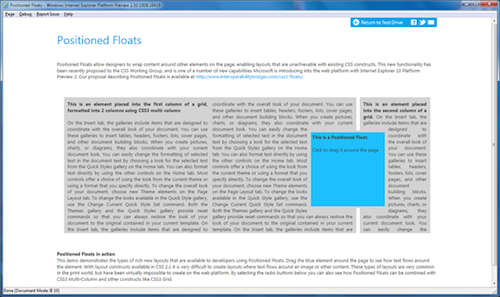 The test drive at this link here illustrates how different browsers today give different results when running the same Web pages even though they all claim support for the same standards. The quality and correctness of different browsers' HTML5 engines vary widely.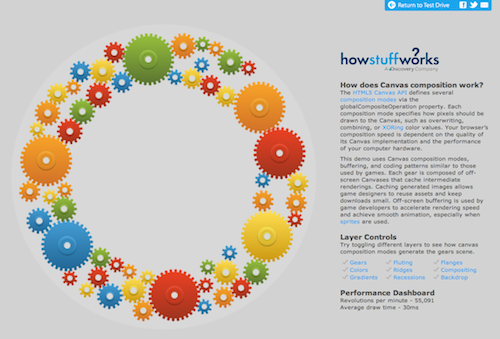 Web application security has also been addressed as illustrated in the image below — the IE10 platform preview now supports HTML5 Sandbox and iframe isolation, an important component to web application security: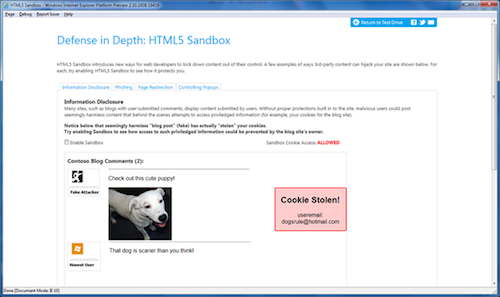 Speaking directly to Microsoft's Ryan Gavin, senior director of Internet Explorer business and marketing, and Rob Mauceri, partner group program manager for Internet Explorer, Computer Weekly Developer Network learned that Microsoft has played a very active role up on more than one W3C working groups.
One can only hope that Microsoft's proximity to working groups and new specs as they are laid down will result in maximum interoperability as the product evolves.