Developers: 35.5 million tablet users can't be wrong
I have been working on a piece with esteemed blogger and corporate writer Eric Lai this week looking at predictions in the enterprise mobility space. The upshot of which was that Lai had taken the obvious by clever route to predicting that there could be as many as 35.5 million tablets sold globally in 2011 — what does that mean for developers? Massive development opportunities of course
So how did Lai arrive at that ultra-precise number?
"By simply averaging the public forecasts of six researchers, ranging from a high of 55 million (Gartner) to a low of 22 million (ABI Research) — hip social media types would call that 'crowdsourcing the experts'. Whatever you call it, that's strong growth: see the chart, based on pre-Thanksgiving forecasts," said Lai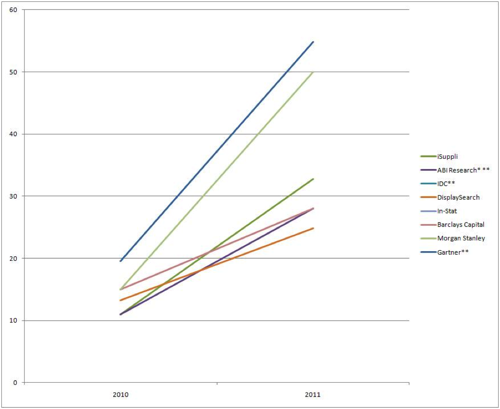 *'Moderate' forecast, from interview with ABI analyst Jeff Orr, Nov. 12, 2010
** Upwardly revised figures.
Nevertheless, says Lai, netbooks will still outship tablets for many years. The facts are, though, that netbooks still outsell tablets by a factor of 4 or so, according to ABI statistics. "Netbooks continue to grow at a very respectable rate," ABI's Orr says. "It's not the same as the last two years, but there's not decline."
Now I don't think any of the above is stating the obvious. Rather, I think it's a case of reminding ourselves of the reality we face — and of course the consequences (and opportunities) that this brings to software application developers.