DevOps specialist firms start to 'fuse'
The CWDN blog is really not interested in funding, corporate ventures, mergers, buy-outs or even corporate parties (unless we are invited, obviously)… this much should be said.
Due to this proviso, it is from a purely technical viewpoint that we make mention of the formation of Sendachi.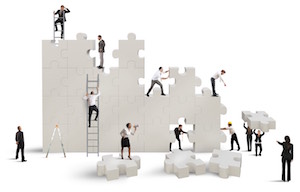 Not a Japanese courier service, Sendachi was formed through the merger of Clutch (based in Seattle) and Contino (based in London).
Ed — I prefer Clutchtino, or Contuchi, clearly.
A mission statement of sorts
The new firm insists that it exists to accelerate deployment of new services and service enhancements to gain the agility and velocity that lets entrepreneurial and customer-centric approaches flourish.
"Our biggest differentiator," says new CEO Steven Anderson. "Is that we don't train internal teams in an abstracted way, we participate with them, showing them how by executing their real-world work."
Sendachi staff have extensive experience in DevOps and continuous integration/continuous delivery.
Contino cofounders Benjamin Wootton and Matt Farmer remain with the new company.
Wootton's 'canned' on-the-record 'this is what they made me say for the press release' statement mentions wholesome goodness and favourite expressions including: software-based disruption, insourcing and re-platforming — the whole nine yards, basically.
Sendachi's parting "this is what we do" statement speaks of a company that specialising in DevOps, continuous integration/continuous delivery and transformational programmes.
The company's Rapid Prototyping and DevOps Acceleration services help organisations speed time-to-market for high quality new and re-tooled applications.